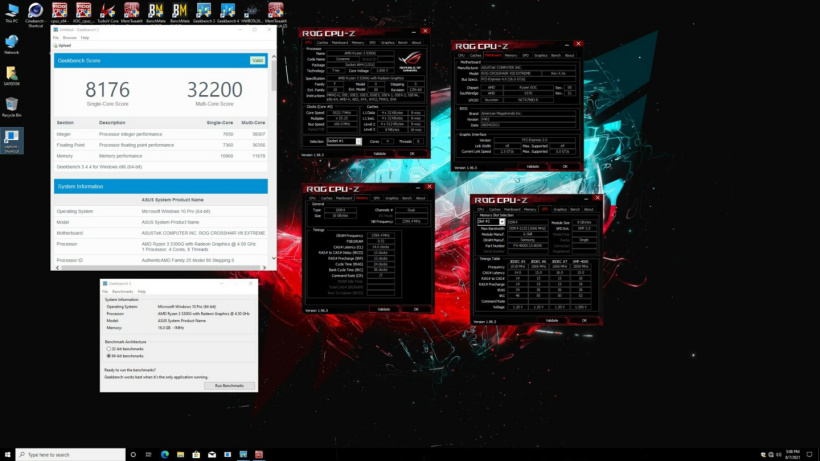 AMD only recently announced that the Ryzen 5000G APUs will be retailing, and the first tests of the younger representative of the line, the Ryzen 3 5300G, have already appeared. A South Korean enthusiast known as Safedisk tested the overclocking potential of this inexpensive quad-core APU, and it turned out to be quite decent for a model that costs about $ 120: in the hands of an overclocker, the Ryzen 3 5300G ran at 5.5 GHz with all active cores.
A non-standard liquid nitrogen-based cooling system was used in the experiment. The overclocking result was very good, but more importantly, the Ryzen 3 5300G demonstrated excellent performance. So, running at 5.4 GHz Ryzen 3 5300G completed the Y-Cruncher test in 53.681 seconds - faster than the previous four-core record holder Core i7-7740X, operating at 6.4 GHz. The APU also performed well in the Geekbench test, scoring 32,200 points in the multi-threaded test. Finally, the GPUPI test, being overclocked to 5.52 GHz, was completed in 2 minutes and 2.651 s - more than a minute faster than the Core i7-7740X, operating at a frequency above 7 GHz.
For overclocking, Safedisk used an Asus ROG Crosshair VIII Extreme motherboard and 16 GB G.Skill Ripjaws V DDR4-2066 MHz (CL14-14-28-1T) memory. Interestingly, 5.5 GHz is not the limit for overclocking the Ryzen 3 5300G: other enthusiasts have an APU running at 5.6 GHz.