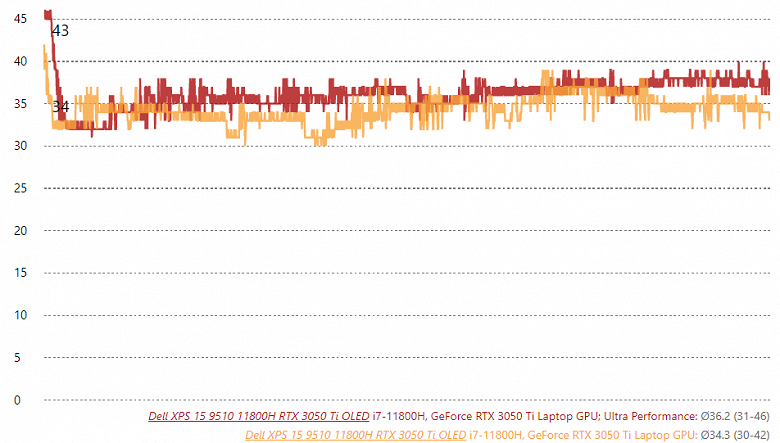 Dell once again excelled in the implementation of the graphics card in the laptop. This time, the XPS 9510 model suffered. As shown by the tests of the source, the GeForce RTX 3050 Ti graphics card in this mobile PC has a record low performance.
In The Witcher 3, performance quickly drops by about 20%, and as a result, last year's Dell XPS 9500 is even slightly faster than the new product, while the old model has a GeForce GTX 1650 Ti graphics card, which under normal conditions is much less productive than the RTX 3050 Ti.
Setting the Ultra-Performance profile in the laptop software settings improves the situation, but only slightly. Initially, the RTX 3050 Ti version in the XPS 9510 should not be fast, as it claims only 45W TGP, while the maximum possible for this model is 80W. However, tests have shown that under load, the power consumption of the adapter in a laptop quickly drops to 30 W - hence the drop in performance and poor performance in itself.
A full review of the laptop at the source is not yet ready, so the final conclusions will be later. In the meantime, keep in mind that the graphics performance of this laptop is pretty bad. Recall that a couple of months ago, Dell was already at the center of a similar story, but then the company deliberately cut the number of CUDA cores in the RTX 3070 graphics card in the Alienware m15 R5 laptop.