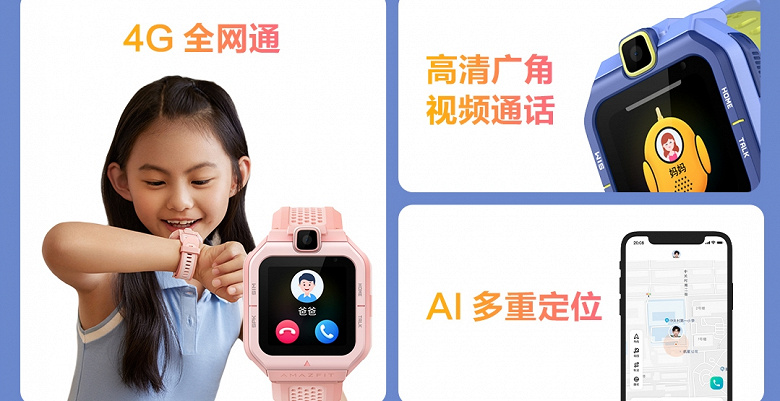 Huami, the renowned contract manufacturer of Xiaomi Mi Band fitness bracelets, has released its first Amazfit smartwatch, designed specifically for children.
A week earlier, a short announcement of the model took place, but, as it turned out now, they are not called Amazfit Pop Pro at all. This is logical since there would be two watch models on the market under the same name and with completely different characteristics.
The name for the international market is still unknown, but in China, the name can be translated as Amazfit Happy Duck Children's Health Watch. The watch is available in blue and pink for pre-order and is priced at $ 123. Open sales will begin on August 18th.
Among the features of the children's Amazfit watch are sports modes specifically for students and schoolchildren in addition to normal workouts, a daylight sensor to track children's activities outdoors and reduce the risk of myopia, a rotating wide-angle camera for video calls and photography, 4G cellular, water protection (IP68 ), SOS button, GPS and Beidou, continuous heart rate monitoring, tracking phases and sleep quality. As the manufacturer promises, the watch is able to record the height and weight of the child, helping parents to follow his development.
The watch can work autonomously for four days in economy mode. The hardware basis is a self-developed single-chip platform Huangshan No. 1 AI familiar from other Amazfit products.