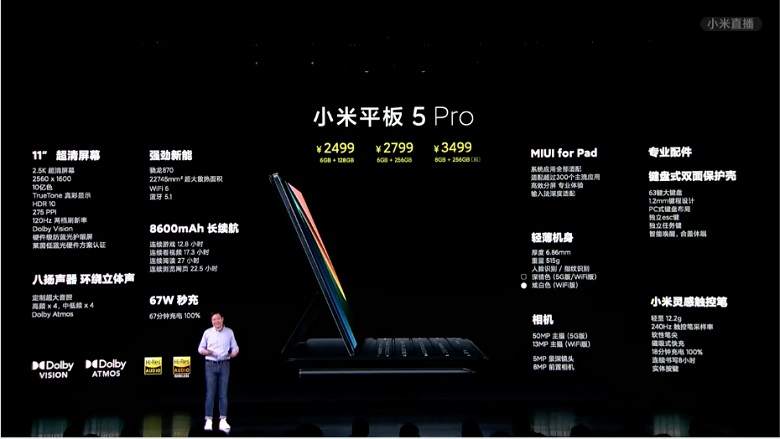 Xiaomi has presented today not only the long-awaited Xiaomi Mi Mix 4 but also a new generation of tablets Mi Pad 5 and Mi Pad 5 Pro.
The company's latest tablet was the Xiaomi Mi Pad 4, which came out almost three years ago. Now two devices are presented to our attention at once.
Xiaomi Mi Pad 5 is equipped with an 11-inch LCD screen with a resolution of 2.5K (2560 x 1600 pixels) with an image refresh rate of 120 Hz, a brightness of 500 cd / m2, support for HDR10, an 8760 mAh battery with support for 33 W fast charging, 13 Mp and 8 Mp cameras, Qualcomm Snapdragon 860 SoC. The MIUI for Pad shell is the basis. The thickness of the device is 6.86 mm, and the tablet weighs 515 grams.
The prices and options for the Xiaomi Mi Pad 5 are as follows:
Xiaomi Mi Pad 5 with 6 GB of RAM and 128 GB of flash memory - $ 308
Xiaomi Mi Pad 5 with 6 GB of RAM and 256 GB of flash memory - $ 355
Xiaomi Mi Pad 5 Pro features an 8600 mAh battery with 67 W fast charging, eight Dolby Atmos speakers, 50 and 13-megapixel dual cameras, as well as 5 and 8 megapixels. The hardware base is the SoC Qualcomm Snapdragon 870.
The prices and options for the Xiaomi Mi Pad 5 are as follows:
Xiaomi Mi Pad 5 Pro with 6 GB of RAM and 128 GB of flash memory - $ 385
Xiaomi Mi Pad 5 Pro with 6 GB of RAM and 256 GB of flash memory - $ 433
Xiaomi Mi Pad 5 Pro with 8 GB of RAM and 256 GB of flash memory - $ 540