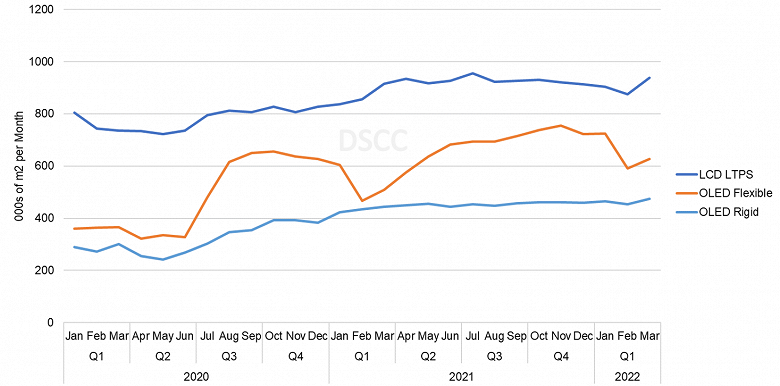 Experts from the analytical company DSCC have studied the dynamics of the flat panel market over the past few years, estimated the growth of the market in the current year, and given a forecast for 2022. According to them, there is a steady growth in the production of OLED displays. Specifically, shipments of OLED displays on flexible substrates are forecast to grow 36% this year and 42% on rigid substrates.
At the same time, the utilization of OLED production lines is still relatively low. This is especially true for Samsung's and BOE's lines of flexible OLED displays. In the case of BOE, according to the DSCC, this is due to the fact that Huawei, the main customer, came under US sanctions and reduced purchases.
As of the end of 2021, the capacity utilization rate for the production of flexible OLED panels is estimated at about 70%, and the capacity utilization for the production of rigid OLED panels is about 77%. Against this background, the capacity for the production of OLED TV panels, allocated in a separate category, is more loaded. Strong demand and the release of new 48-inch and 83-inch OLED TVs have resulted in LG factories operating at nearly full capacity this year. However, LG is expected to reduce capacity utilization in the current and next quarters to keep prices from falling.