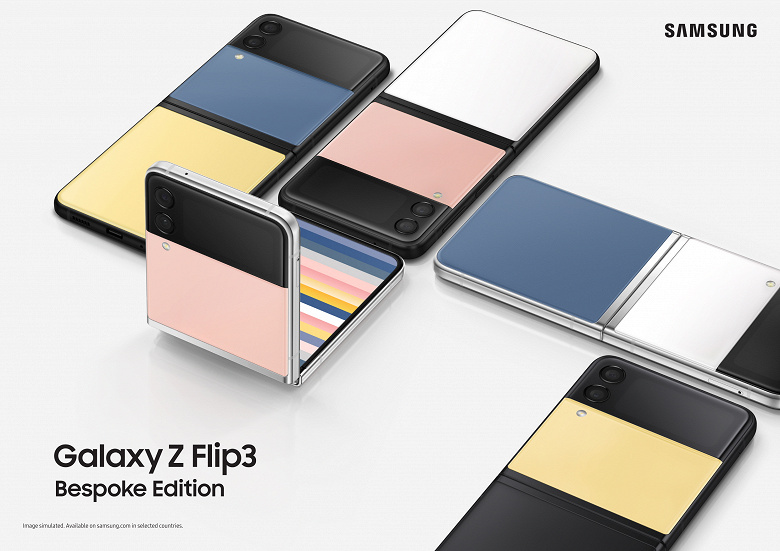 Samsung Electronics presented a new version of the Galaxy Z Flip 3 clamshell smartphone at the Galaxy Unpacked Part 2 event. It's called the Galaxy Z Flip 3 Bespoke Edition.
The main feature of the Galaxy Z Flip 3 Bespoke Edition is the possibility of a wide selection of colors - 49 possible options are available to buyers, which are combined from five front panel options, five back panel options, and two frame options.
To get such an unusual clamshell before purchasing, you need to go to the Galaxy Z Flip3 Bespoke Studio section on the official Samsung website. The selected option will be packaged in a special Bespoke Edition packaging, and the smartphone will be equipped with a special color-matched wallpaper for two screens - the main and secondary.
Galaxy Z Flip3 smartphones in the Bespoke Edition will be available from October 20 in countries such as Korea, the USA, the UK, Germany, France, Canada, and Australia.
The price depends on the region and, for example, in Germany starts at 1149 euros. In the US, the price difference between the regular Galaxy Z Flip3 and the Bespoke version is $ 50 - 1099 instead of the usual 1049.
A separate highlight is that a special Bespoke Upgrade Care program is provided for such smartphones, and for a relatively small surcharge (49 euros) you can change the design of one of the sides of an already purchased smartphone by replacing the panel.
Users can also customize their own color options for the Galaxy Watch4 series in the Galaxy Watch4 Bespoke Studio - mixing different colors, sizes, and styles of straps. There are far fewer options offered here and the price remains the same.