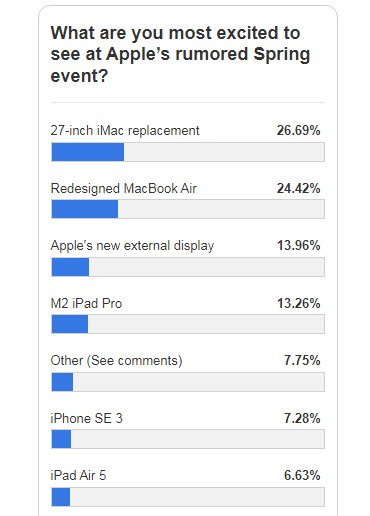 On the website of the thematic portal 9to5mac, they conducted a survey on the topic of the most anticipated announcements that are expected at Apple's spring press conference. Interestingly, the iPhone SE 3 smartphone not only did not become the most anticipated product but also did not make it into the top five.
The upgraded version of the 27-inch iMac took first place with 26.69% of the vote, followed by the new MacBook Air with 24.42% of the vote. The new Apple monitor is expected by 13.96% of users. 7.75% chose other options, 7.28% of users voted for Phone SE 3. Less popular is only the iPad Air 5 with a score of 6.63%.
Previous leaks prove there are two versions of the iPhone SE 3. One of them should continue to use Apple's 4.7-inch classic shape and keep the Home button. The other version will get a 6.1-inch notched display. Regardless of the design, the phone has been confirmed to use the Apple A15 Bionic SoC.
The price of the phone can be about $400, it will be the most affordable iPhone with support for fifth-generation networks.