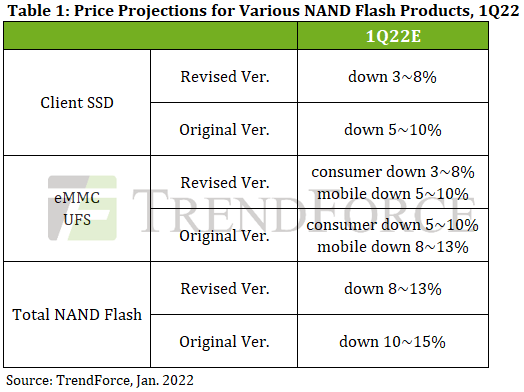 TrendForce analysts have adjusted their forecast for NAND flash memory prices. If earlier they believed that in the first quarter of 2022 the average selling price of these products would decrease by 10-15% compared to the fourth quarter of 2021, then the new forecast shows a range of 8-13%.
The correction is attributed to PC OEMs increasing orders for PCIe 3.0 SSDs, while lockdown measures in Xi'an, where Samsung and Micron's factories are located, changed the position of flash memory vendors in the auction. To mitigate potential risks in logistics, NAND flash buyers are now more likely to accept smaller contract price cuts to get their products faster, analysts said. However, since the lockdown in Xi'an did not have a noticeable impact on the work of local factories, contract prices for NAND flash memory will not change much in the future.
Price declines for client SSDs in Q1 2022 are expected to be 3-8%, not 5-10%. TrendForce's aforementioned increase in PCIe 3.0 SSD purchases is attributed to lower than expected shipments of the latest Intel Alder Lake processors that support PCIe 4.0. Comparatively strong demand for notebooks in the enterprise segment has prompted some PC OEMs to increase their orders to meet their PC shipment targets for Q1 2022. Meanwhile, SSD vendors are already shifting to PCIe 4.0 models, creating a gap between supply and demand for PCIe 3.0 SSDs.
As far as smartphones are concerned, not only is demand remaining relatively sluggish, but manufacturers still have relatively high stock levels of eMMC and UFS modules. This allows them to avoid large contracts for the purchase of NAND flash memory, which would allow them to negotiate lower prices. The contract prices for eMMC and UFS are expected to fall by 5-10% instead of 8-13% as previously expected.
Finally, contract prices for server SSDs and NAND wafers are expected to decline by 3-8% and 10-15%, respectively. These ranges remain unchanged.