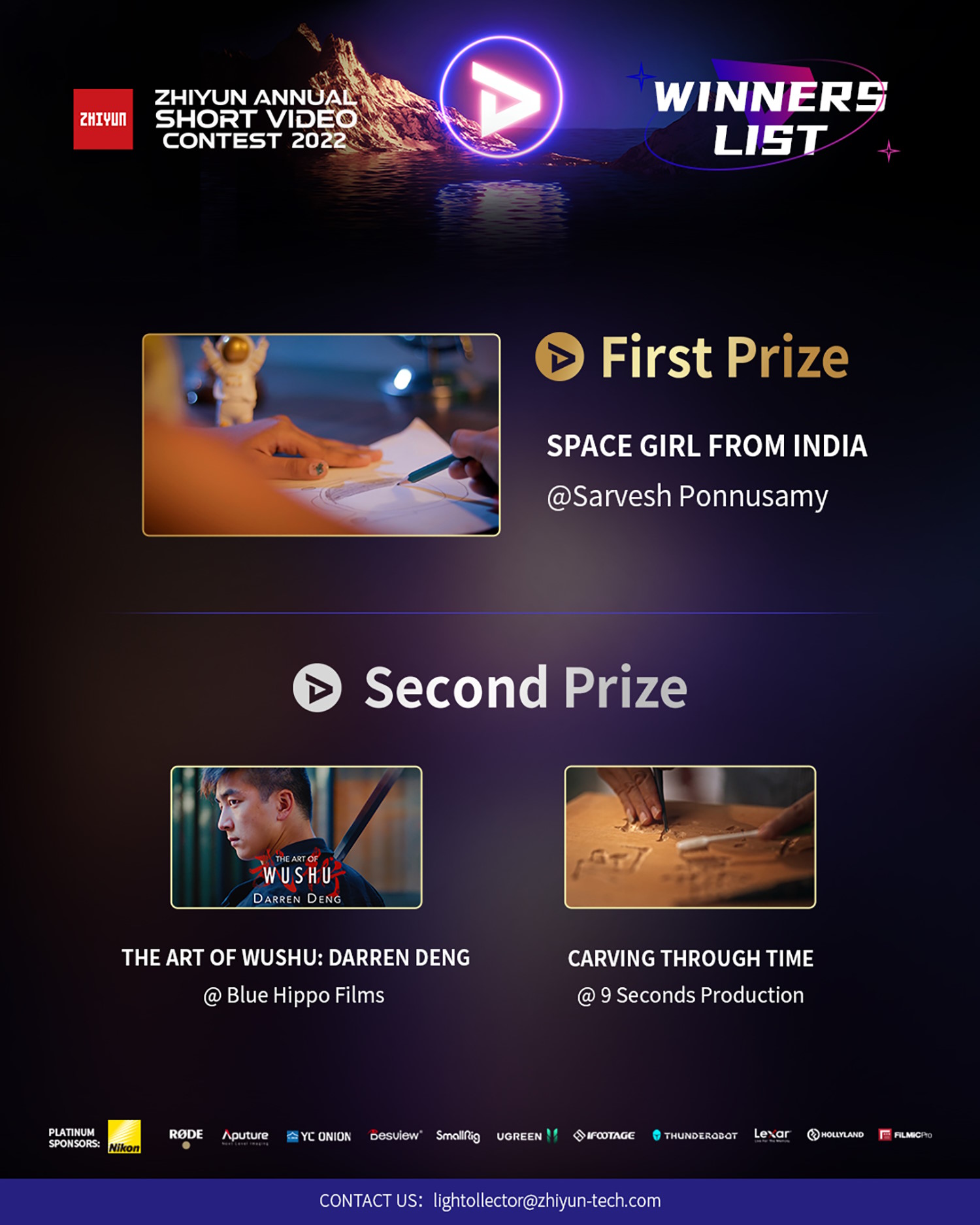 ZHIYUN, the world's leading gimbal brand for filmmakers with cameras and smartphones, has announced the 2022 winners of its annual short video contest. Now in its fourth year, the 2022 contest was an astronomical success, concluding with a total of 1,429 entries across the categories of travel, vlog, narrative, documentary, and creative/MV.
With the intention of supporting and promoting the best in the independent filmmaking community, ZHIYUN awarded 25 global winners from a 100K USD prize pool, including flagship cameras, popular ZHIYUN gimbals, and other digital media gear. The judging panel included a wide range of industry luminaries: Tim, founder of MediaStorm; filmmaker and director, Olivier H.D; esteemed photographer & content creator, Lin Haiyin; professional Steadicam videographer, Chen Yinghong; and the famous director and videographer, Zhi Zhu. Winning entries were chosen for their innovative ideas, strong storytelling, and outstanding filmmaking technique.
The contest was hosted by ZHIYUN, with an esteemed partner, NIKON, and in collaboration with RØDE, Aputure, YC.Onion, Desview, SmallRig, iFootage, Thunderobot, Lexar, MOMA, UGREEN, and FiLMiC.
1st Place: Filmmakers' Choice
"Space Girl from India", by Sarvesh Ponnusamy
2nd Place
"The Art of Wushu: Darren Deng" by Blue Hippo Films
"Carving Through Time" by 9 Seconds Production
3rd Place
"Beneath the Lonesome Skye" by Rob Layton
"MALLORCA - A Magical Adventure" by Sergio Mota
"Geng Merah" by SixFiveVisuals
The Nikon Fresh Clip Award
"The Cypriot Pipe Maker" by Yiorgos Doukanaris
"The Siege" by ALOHUB
"Big Foot Rail Slide" by David Peterson