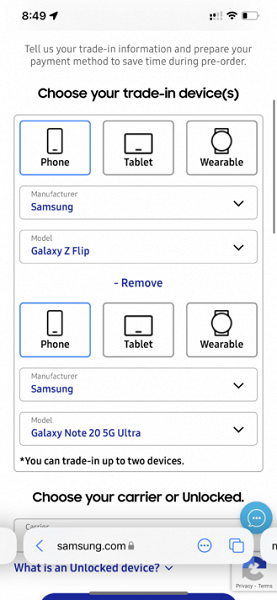 Samsung has announced that it has started accepting pre-orders for its upcoming Galaxy Z Fold 3 and Galaxy Z Flip 3 foldable smartphones.
Potential buyers can now reserve upcoming foldable devices, and those planning to swap an existing device for a new one at a discount should check this out right away. But more importantly, Samsung is giving people the ability to swap up to two devices for one of its future foldable phones at an even bigger discount.
It is not yet clear if this two-device swap scheme will only be available during the booking period or whether it will become standard for Galaxy Z buyers in the future. It's possible Samsung could even extend the scheme to other flagships, but it's too early to talk about that yet.
Samsung is trying to bring more attention to foldable devices and figure out how successful the company's new swap strategy will turn out to be. This service is currently only available in the United States.
According to various sources, both folding devices will be 20% cheaper than their predecessors. Samsung is well aware that foldable smartphones will gain widespread popularity only after they become cheaper, and try to do everything for this. The presentation of the Samsung Galaxy Z Fold 3 and Galaxy Z Flip 3 will take place on August 11.