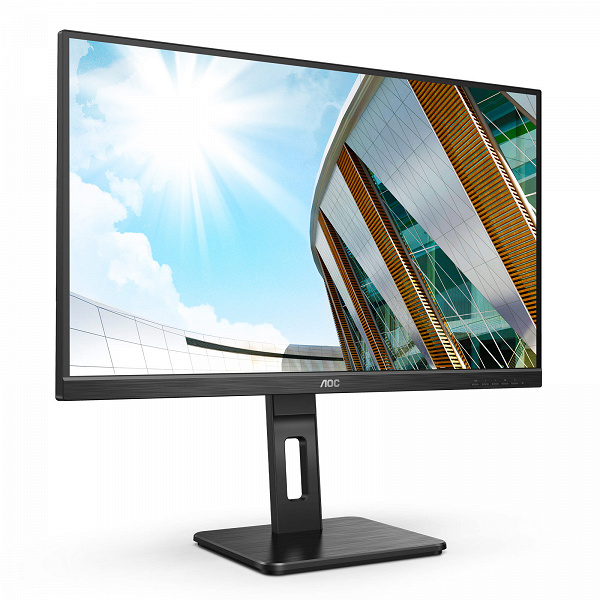 AOC has introduced four professional monitor models to join the P2 line. According to AOC, they are aimed at business users who need large, high-resolution screens that allow them to work with multiple applications at the same time. The U32P2CA and Q32P2CA models are based on 32 "panels, while the U27P2CA and Q27P2CA models are based on 27" panels. The first character in the model designation indicates the resolution: U stands for 4K (3840 x 2160 pixels), while Q stands for QHD (2560 x 1440 pixels).
The U32P2CA uses a VA type panel. For it, a contrast ratio of 3000: 1 and a brightness of 350 cd / m 2 are declared . The screen covers 119% sRGB color space, 97.3% AdobeRGB color space and 90.7% DCI-P3 color space, making this monitor well suited for photo and video work. The monitor has a built-in four-port USB 3.2 hub.
AOC U27P2CA, Q32P2CA and Q27P2CA monitors use IPS panels. They provide better color reproduction. For example, in the case of Q27P2CA, the coverage of the sRGB color space is 126.5%, the AdobeRGB color space is 108.4%, and the DCI-P3 108.4% coverage is 100.8%.
Each model has a USB-C connector for connecting to laptops, tablets and mobile devices using a single cable, which is used to simultaneously transfer video data, supply voltage and exchange data with another external device, such as an external drive. Of course, the equipment also includes the more familiar HDMI and DP connectors.
The stand design is the same for all models. It allows 150 mm height and tilt adjustment and 90 ° swivel. The 32-inch monitors have two 3W speakers each, and the 27-inch monitors have 2W each. In any case, there is a 3.5 mm headphone jack.
Monitors AOC Q32P2CA and U27P2CA should be on sale this month at a suggested retail price of 31,059 and 35,509 rubles, respectively. The AOC U32P2CA model will go on sale in September at a suggested retail price of 40,849 rubles, and the AOC Q27P2CA lineup will come up in October 2021. The recommended retail price for this model is 31,949 rubles.