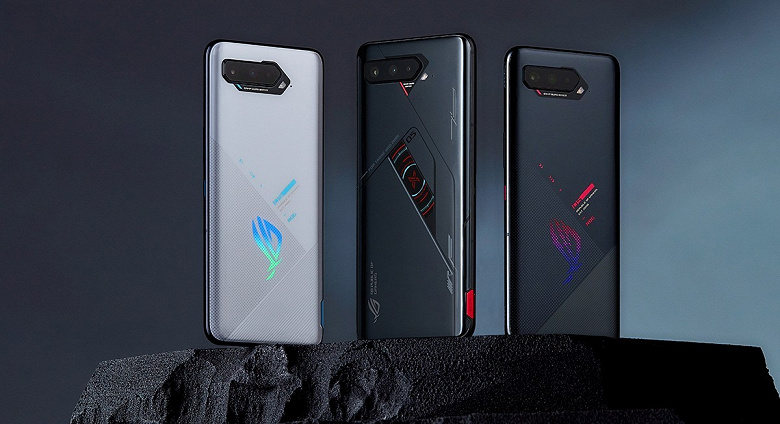 Asus has unveiled two new gaming smartphones Asus ROG Phone 5s and 5s Pro, which are improved versions of the Asus ROG Phone 5 and ROG Phone 5 Pro released in March.
The smartphones received the Qualcomm Snapdragon 888+ SoC, but the changes don't end there. The new lineup won't feature the Ultimate model, but the Asus ROG Phone 5s Pro gets up to 18GB of LPDDR5 RAM and 512GB of UFS 3.1 flash memory. The source does not write about the memory expansion technology, but it was previously reported that the RAM can be expanded by 8 GB. In addition, the Asus ROG Phone 5s Pro got a color PMOLED display on the back, while the Asus ROG Phone 5 Ultimate had a monochrome display.
The Asus ROG Phone 5s is available in 8/128, 12/256, and 16/256 GB. None of the models have a MicroSD slot, but they do support external USB drives in NTFS format. The back of the Asus ROG Phone 5 features the Republic of Gamers logo with RGB backlighting. The Asus ROG Phone 5s Pro has two touch sensors on the back that you can use to control your games. The standard Asus ROG Phone 5s only has AirTrigger 5 ultrasonic shoulder buttons.
The Asus ROG Phone 5s and 5s Pro got a screen with a touch layer polling rate of 360 Hz and a record low latency of 24 ms. The 6.78-inch Super AMOLED 1080p + panel supports a 144Hz refresh rate and 1ms response time. The panel is HDR10 + certified, covering nearly 151% sRGB and 111% DCI-P3.
The battery with a capacity of 6000 mA • h supports 65-watt charging, there is a 3.5 mm headphone jack. The Asus ROG Phone 5s Pro comes with a $ 70 cooler. And the standard version of the smartphone received only a charger and a case.
The new smartphones are compatible with previously released Asus ROG Phone 5 accessories and also support some accessories for the older ROG Phone 3.