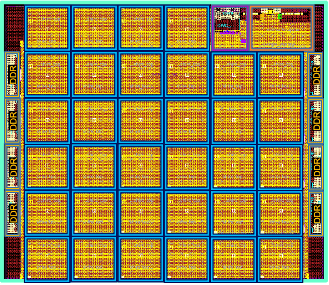 Esperanto Technologies, which specializes in the development of high-performance and energy-efficient inference accelerators based on the RISC-V instruction set for machine learning, presented details of its ET-SoC-1 supercomputer-on-a-chip at Hot Chips 33. It is an inference accelerator with over a thousand custom-designed RISC-V processor cores, which Esperanto Technologies says is the highest performing commercial RISC-V processor.
Designed to meet the needs of large processing center customers looking for high performance with air cooling and low power consumption, the ET-SoC-1 inference accelerator is a versatile parallel processing solution that can accelerate the execution of many parallelized workloads. The microcircuit consumes less than 20 watts. Its configuration includes 1,088 ET-Minion processor cores, each with its own vector and tensor operations unit, four high-performance ET-Maxion cores and a high-performance memory subsystem, which includes 160 MB of onboard SRAM and LPDDR4x and eMMC interfaces. The ET-SoC-1 is equipped with a PCIe x8 Gen4 interface and common I / O.
The company plans to launch an early access program later this year that will give qualified customers the opportunity to try out ET-SoC-1.