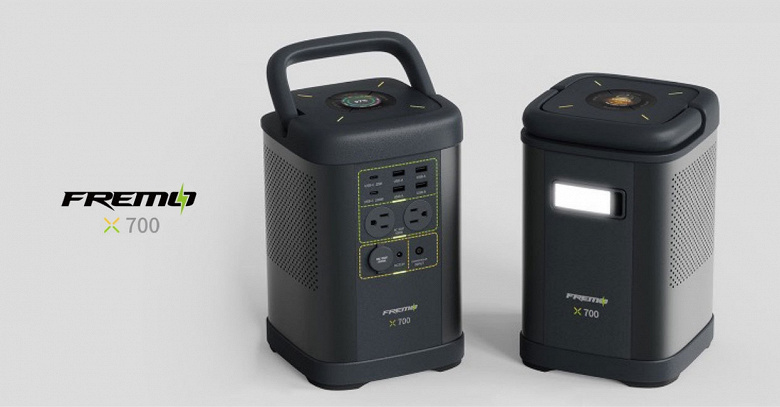 Founded last year, Fremo announced the Fremo X700 and Fremo X700 Pro portable batteries. They use LiFePO 4 rechargeable batteries. The Fremo X700 Pro is said to be the most compact portable power station with a capacity of 700 Wh. The dimensions of the power supply are 184 x 184 x 289 mm, and the weight is 7.9 kg. It is rated for 1000W continuous power consumption, and the peak power can be up to 1600W. Up to ten devices can be powered at the same time. The Fremo X700 has a capacity of 662 Wh, 600 W continuous, and 1200 W peak.
The manufacturer gives several examples to evaluate the capabilities of the Fremo X700 Pro. The iPhone 12 can be charged 50 times on a single charge, the Switch console 37 times, and the Macbook Air 12 times. A smart speaker can work from Fremo X700 Pro for more than 20 hours, a car refrigerator for more than 10 hours, a TV for more than 5 hours.
Battery management and monitoring is facilitated by a small color screen. The list of output connectors includes wall outlets (suggested for different regions, including Europe), car outlets, USB-A, and USB-C ports. The kit includes a removable LED flashlight that can work without recharging for up to 12 hours. The battery has a built-in controller for charging from the solar battery. The battery can come in handy during outings and in emergencies.
The manufacturer notes the high safety provided by a durable case, the presence of protection against overheating and short circuit, overcurrent and overvoltage. The battery electronics distributes the load between the batteries for even wear. As stated, after 1500 charge-discharge cycles, you can count on 80% of the original capacity, after 3000 cycles - at 60%.
A fundraising campaign is currently underway on the Kickstarter site for the release of batteries. The minimum deposit required to get the Fremo X700 is $ 399, the Fremo X700 Pro is $ 499. The company promises to start shipping in December this year. The X700 and X700 Pro will come with a two-year warranty.