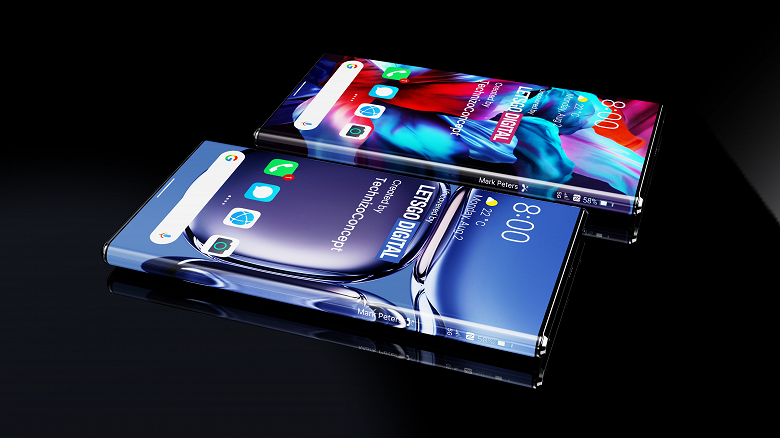 Huawei has patented a device that may well be released under the name Huawei Mate 50. At least, this is the opinion of the resource LetsGoDigital, which provides not only patent images from the US Patent and Trademark Office, but also renders of the future smartphone.
According to the available information, the novelty will receive a display that bends strongly on the sides, which will cover the entire front panel, as well as the sides of the smartphone. Last year's Huawei Mate 40 Pro received a waterfall screen that bent at an angle of 88 degrees and supported touch controls on the side panel. It is possible that the Chinese manufacturer decided to develop this topic further.
The patent says that the new futuristic smartphone is equipped with an Arc Display, which is its most striking feature. Due to the fact that the screen bends to the sides of the smartphone, it will be devoid of physical control buttons. A volume control scale will be displayed on the side, as well as notifications about calls, messages and other events.
Created by Technizo Concept, renders and video of the device show a smartphone without a visible front camera. Presumably, it will be located under the display surface. After the announcement of Xiaomi Mi Mix 4 and Samsung Galaxy Z Fold3, this technology is no longer surprising. It is worth noting that the first smartphone with a sub-screen camera was introduced almost a year ago - it was the ZTE Axon 20 5G.
Earlier, Chinese sources said that Huawei will not release the flagship Mate series mobile phone this year, which was supposed to be dubbed the Huawei Mate 50. It may be released next year.