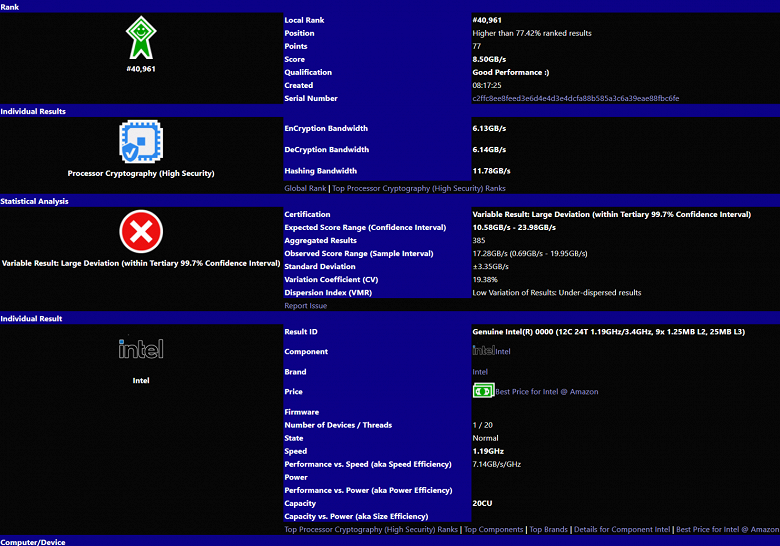 A new Intel processor has been spotted in the SiSoftware Sandra benchmark database. The CPU has no exact designation, but it has been identified as the Intel Core i7-12700K - potentially one of the most popular overclocking-enabled Alder Lake-S lineups.
Intel Core i7-12700K received 12 computing cores. The benchmark determined the number of threads to be 24, but in reality, there are only 20, since only the large cores of the Alder Lake CPU support multithreading. The Core i7-12700K has eight such (Golden Cove) cores, four more cores are energy-efficient small ones on the Goldmont architecture. Since the engineering sample was tested, the clock frequencies are low - 1.2-3.4 GHz, but the production version of the Core i7-12700K will obviously have higher frequencies.
Since the software cannot yet correctly recognize and determine the Alder Lake architecture, there are inaccuracies in the definition of cache memory. In reality, if we talk about the third level, it should be 22 MB for all large cores (2.75 MB per core) and 3 MB for small cores (768 KB for each core, of which there are four). L2 cache size: 8 x 1.25 MB + 4 x 384 KB = 11.5 MB.
It remains to be noted that the Core i7-12700K was tested as part of an assembly with 16GB of DDR5-4800 MHz RAM. Support for DDR5, as well as PCIe 5, is one of the important features of Alder Lake-S, however, not all CPU series is likely to be able to provide it.