The first Intel Arc gaming graphics card will not be released until early next year. The first leaks about performance will probably appear earlier, but already now the specialists of the 3DCenter resource have decided to try to compare the theoretical forces of the so far unnamed top-end Intel graphics card of the Alchemist line with Nvidia and AMD cards.
More precisely, it was not video cards that were compared, but GPUs, since this is most important. GPU DG2-512 - the top-end graphics processor in its line - has been compared with Nvidia GA104 and AMD Navi 22. In the first case, the most powerful video card based on such a GPU is the GeForce RTX 3070 Ti, in the second - the Radeon RX 6700 XT.
Since Intel has already revealed the details of the configuration of its new GPUs, we can compare at least the main functional blocks. What do we get?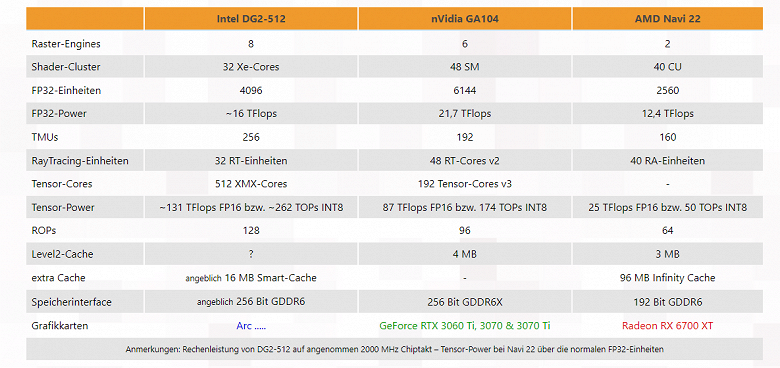 For example, DG2-512 contains more texture and raster units. Moreover, in comparison with Navi 22, the advantage is very large. But there are fewer blocks for accelerating ray tracing in the Intel GPU. It makes no sense to compare solutions by the number of main processing cores (ALU), since everything here depends very much on the architecture.
Also, better graphics of the GPU schema let us know that Intel graphics cards have XMX modules that can be compared to Nvidia's tensor cores. At least in theory. And the DG2-512 has 512 such cores, while the GA104 has only 192 of them. However, Nvidia game cards use such blocks only in DLSS technology. Intel will use them in a similar XeSS technology.
As a result, the source believes that so far there is no indication that the Intel Arc graphics card based on the DG2-512 could not compete with the GeForce RTX 3070 Ti or bypass it. However, actual performance also depends on many other factors, including software.