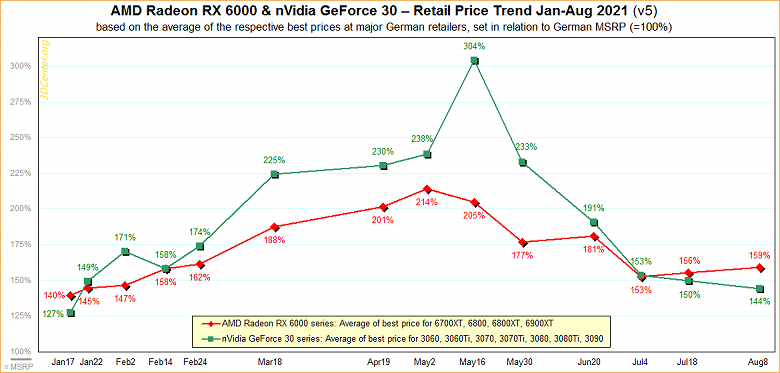 Resource 3DCenter has published another note on the statistics of prices for AMD and Nvidia video cards of the current generation. And if the prices themselves, in this case, are not of particular interest to us, since there have been few changes lately, then the situation with margins looks interesting.
The fact is that for the first time since January, the average markup for Radeon RX 6000 cards in the European market exceeded the markup for GeForce RTX 30 cards.
As you can see, in the first case it is 59% against 56% in July, and in the second - 44% against 50%. That is, now - more precisely, since mid-July - on average, AMD adapters have a higher markup than Nvidia cards, and this has not happened since January. And it's worth noting that the gap widened in a few weeks.
Sources attribute this to an increase in the number of Nvidia cards in retail, while AMD video cards are no longer on sale. In addition, it is possible that Nvidia models have dropped somewhat in price due to the massive distribution of versions with protection from mining.
At the same time, video card manufacturers, unfortunately, do not hope to improve the situation with the supply of AMD GPUs in the near future. Perhaps the situation will improve somewhat with the release of the RX 6600 XT, but so far these are only rumors.