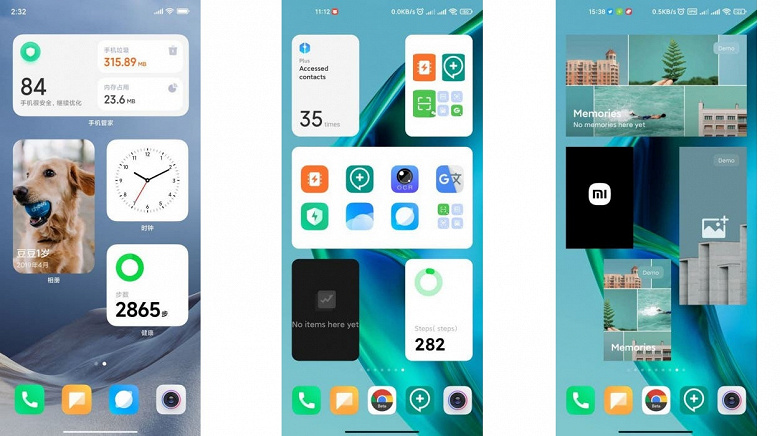 In addition to the flagship Xiaomi Mi Mix 4, the CyberDog robot, and the Xiaomi Mi Pad 5 series tablets, the company presented MIUI 12.5 Enhanced Edition at a big press conference. This is an improved version of the proprietary interface, which the company's flagship models will receive by the end of the month. The main innovation of this firmware is optimization, and you shouldn't expect a lot of new features.
Over the weekend, it became known that in MIUI 12.5 Enhanced Edition, the manufacturer has implemented a new system of iOS-style widgets. The new feature is currently being tested on the Chinese version of the user interface and can be tested by users who participate in the beta program and have installed App Vault (V5.0.56) and MIUI Gallery (V2.2.21). These app versions can only be installed on devices with the MIUI beta build based on Android 11.
Users can now place widgets with sizes 2 x 2, 4 x 2, 4 x 4 and 2 x 3 on the home screen. Users can place widgets of their choice anywhere on the screen. There are also new widgets for system applications and the "Widget Store".
From August 17 to October 20, the company will test the widget system. It may take several months before the release of a stable build of the global version of MIUI 12.5 Enhanced Edition.
MIUI 12.5 Enhanced Edition will initially be available to users of Mi Mix 4, Mi 11 Ultra, Mi 11 Pro, Mi 11, Mi 10 Ultra, Mi 10 Pro, Mi 10, Mi 10S, as well as Redmi K40, Redmi K40 Pro, Redmi K30S Supreme Anniversary Edition and Redmi K30 Pro.