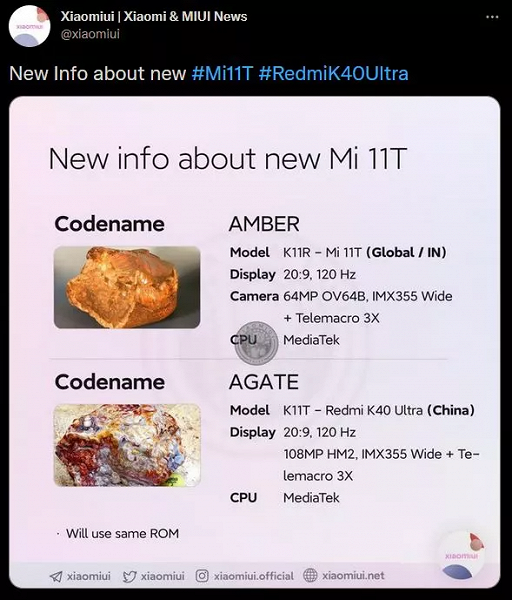 New details continue to emerge about the Xiaomi Mi 11T and Redmi K40 Ultra smartphones, which should be released soon in different countries of the world.
We already know something about the Xiaomi Mi 11T. The source clarifies that the device is codenamed Amber and has the model number K11R. It will receive a 120 Hz screen with an aspect ratio of 20: 9, although its predecessor, the Xiaomi Mi 10T, had a 144 Hz screen. This is because the LCD panel will be replaced with an OLED screen.
The Xiaomi Mi 11T should be equipped with a 64-megapixel OmniVision image sensor, an 8-megapixel wide-angle camera with a Sony IMX355 sensor, and a 3x telephoto macro lens. So, Xiaomi Mi 11T will be offered in almost all countries of the world and India.
Redmi K40 Ultra should be a copy of the Xiaomi Mi 11T, but only for the Chinese market. This phone, codenamed Agate and model number K11T, will receive a 108MP image sensor instead of a 64MP one. Both smartphones will be based on the Dimensity 1200.
Both smartphones are expected to launch this fall.