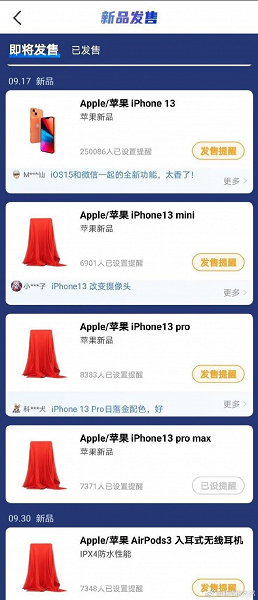 Apple has not yet announced the exact dates for the presentation and start of sales of its next-generation smartphones and other new products. Meanwhile, the Chinese online store has unveiled the launch dates for the iPhone 13 and AirPods 3 ahead of time.
According to the source, pre-orders for the iPhone 13 will open on September 17, on Friday, and for AirPods 3 September 30, on Thursday. It is noted that the online store quickly corrected its oversight, but screenshots with dates have already scattered across the network.
Accordingly, Apple's announcement can be expected a little earlier. According to one of the analysts, the iPhone will be presented in the third week of September, that is, from 13 to 17 September. This fits well with the schedule shown by the Chinese store. Based on the events of past years, September 7, September 14 and September 21 are likely dates when Apple could make a presentation and announce new iPhone models.
However, it should be noted that such screenshots can be easily faked. Nevertheless, the dates shown fit well with the rest of the rumors circulating on the network about the upcoming launch of the new iPhone line.