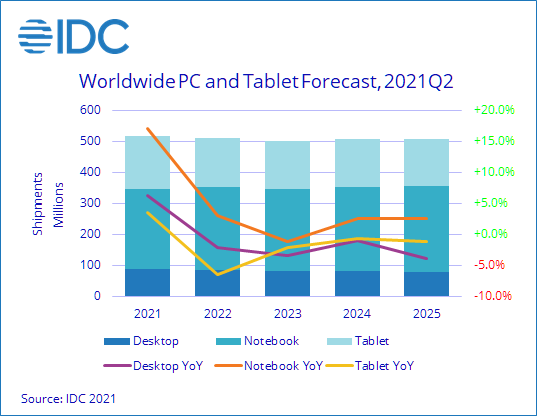 According to a new forecast from IDC, global PC shipments in 2021 will grow by 14.2% year-on-year to 347 million units. The tablet market is expected to grow in 2021, but to a much lesser extent - by 3.4%.
From 2021 to 2025, the traditional PC market, including desktops, laptops, and workstations, will grow 3.2% CAGR, while tablet shipments will decline an average of 1.5% annually. Despite short-term problems with certain components, including LCD panels and chips, laptops will remain the main engine of growth.
Analysts point out that personal computing devices have played an important role in the lives of many consumers over the past eighteen months, allowing people to work, study, play and communicate from home despite isolation and social distancing. Although the pandemic is not over yet, life will gradually return to normal, but IDC expects that even then, personal computing devices will remain important to most consumers.
Even taking into account the fact that in the last years of the indicated period, consumer spending will be redistributed towards travel and leisure - the categories of expenses most affected during the pandemic, and the growth of the PC market will slow down, its volume will be much larger than it would have been by that time. if not for the restrictions associated with the pandemic.