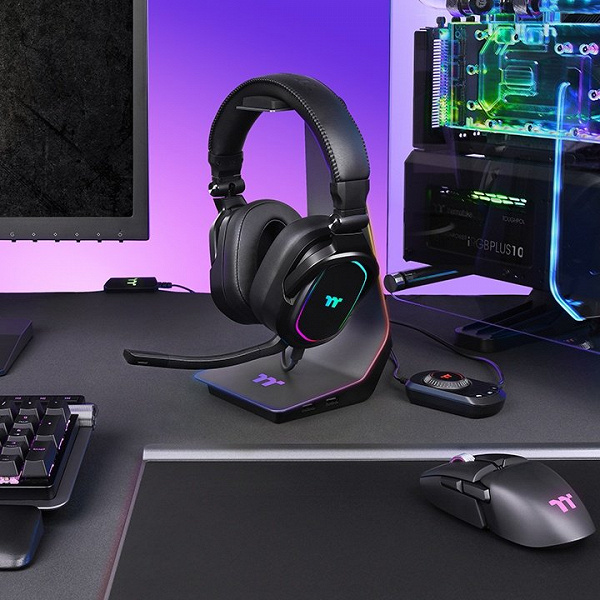 Thermaltake has announced the addition of the Argent H5 RGB 7.1 Surround Gaming Headset (P / N GHT-THF-DIECBK-31) to the TT Gaming family. Its description notes support for DTS Headphone: X v2.0 surround sound technology and the use of 50mm drivers, which provide "clear and accurate sound of both low and high frequencies." Thanks to the built-in control unit, users can adjust the volume balance between game and chat sounds, as well as the microphone volume. The manufacturer also attributes the Argent H5 RGB 7.1 Surround Gaming Headset to its lightweight construction and memory foam ear cushions. The headset's full-color illumination is divided into two zones.
The range of reproducible frequencies is 20-40,000 Hz, the impedance is 32 Ohm, and the sensitivity is 118 ± 3 dB. The microphone on a removable boom has a bi-directional radiation pattern, is characterized by a sensitivity of -47 ± 3 dB and an impedance of 2.2 kOhm. Its frequency response is 100-10,000 Hz.
The control unit is connected to a computer via USB, and the headset is equipped with a 3.5 mm jack. It weighs 359 g. The headset is compatible with PC, Mac, Xbox One, PS4, Nintendo Switch, and mobile devices, as well as software iTAKE Engine, TT RGB PLUS, Razer Chroma.