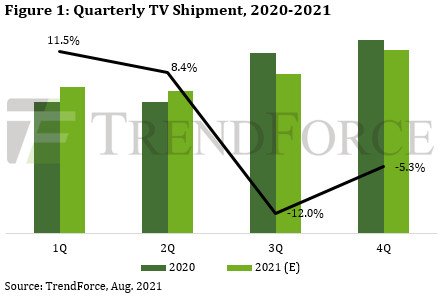 The specialists of the analytical company TrendForce summed up the results of the first half of the year on the TV market. According to their calculations, from January to June, 98.45 million of these devices were shipped worldwide. This value is not only 10% higher than the figure recorded in the first half of last year but is also the highest over the past five years. Analysts note that shipments were constrained by a shortage of panels that emerged in the second quarter.
Although the severity of the problem with the supply of components has gradually eased in the current quarter, according to TrendForce, retail prices for TVs in the second half of the year are unlikely to remain at the level of the first half of the year. The fact is that the rise in prices for television panels during the period of shortages led to a sharp jump in the cost of production of televisions. Rising prices and market saturation will lead to the fact that growth will give way to recession. The coming slump in demand this year is expected to trump the traditional seasonal recovery. More precisely, TrendForce experts predict that 117 million TVs will be shipped in the second half of the year. This is 8.5% less compared to the same period last year.
Taking this into account, the forecast for 2021 has been revised as a whole. Analysts expect about 215 million units to be shipped this year, down 0.9% from 2020.