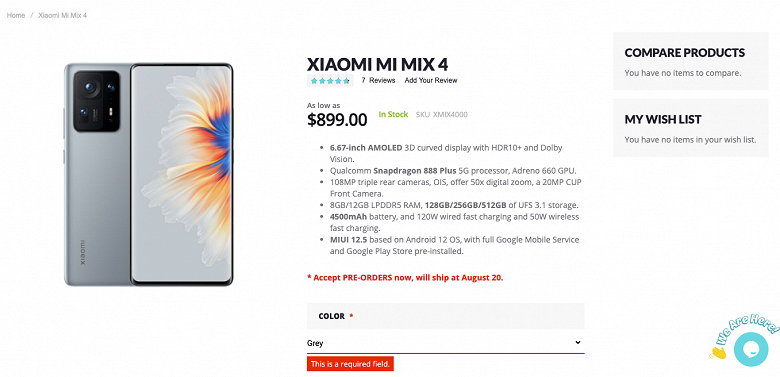 Xiaomi, literally, yesterday introduced the new flagship smartphone Xiaomi Mi Mix 4 and it has already become a hit in China. Until Xiaomi released an international version, the online store Giztop undertook to correct this injustice.
Giztop is already offering the Xiaomi Mi Mix 4 to order outside of China, promising worldwide delivery. As you know, the Chinese Xiaomi models are not very convenient for users from other countries. But Giztop has made some adaptations - the services and Google applications that are familiar to Europeans are installed on the proposed Xiaomi Mi Mix 4, which are not available in the version for China.
This adaptation, among other things, includes the installed online application store Google Play Store and support for updates "over the air". The interface supports Chinese and English. The presence of support for European 4G and 5G frequency bands is also highlighted.
Available in white, black, and gray body options. Giztop offers the following prices for the Xiaomi Mi Mix 4:
Xiaomi Mi Mix 4 with 8 GB of RAM and 128 GB of flash memory - 899 dollars (in China it is worth 771 dollars)
Xiaomi Mi Mix 4 with 8 GB of RAM and 256 GB of flash memory - $ 989 (in China it costs $ 817)
Xiaomi Mi Mix 4 with 12 GB RAM and 256 GB flash memory - $ 1,089 (in China it costs $ 894)
Xiaomi Mi Mix 4 with 12 GB of RAM and 512 GB of flash memory - $ 1189 (in China it costs $ 972)
At the time of this writing, delivery is scheduled for 20 August. In China, open sales will begin on August 16, 2021