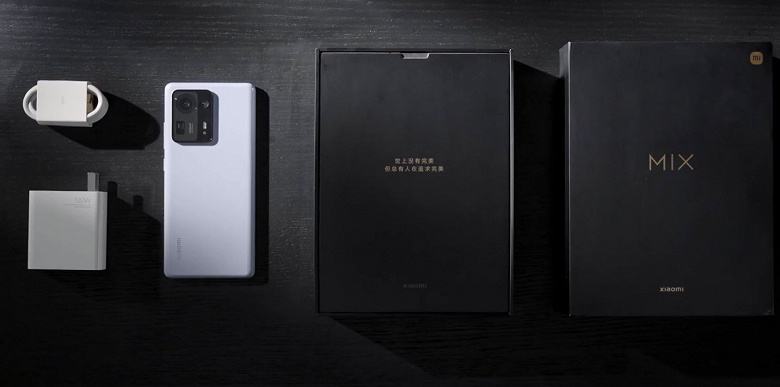 Xiaomi has finally revealed what is in the box for the new flagship smartphone Xiaomi Mi Mix 4, which was announced this week. A video was posted on the company's official Weibo page.
Recall that this year, with the release of the flagship smartphone Xiaomi Mi 11, Xiaomi followed Apple's example and began to exclude the charger from the standard package. However, with the release of the Xiaomi Mi Mix 4, the company decided to change its strategy and put the charger back in the box.
Xiaomi Mi Mix 4 was the first smartphone from the company with a sub-screen front camera, which is almost invisible, as shown in real photos. The smartphone has a 6.67-inch OLED display with Full HD + resolution (2400 x 1080 pixels) with a 20-megapixel sub-screen camera. The triple main camera has a resolution of 108 megapixels and offers a 50x hybrid zoom. The battery capacity is 4500 mAh, the smartphone supports 120-watt wired and 50-watt wireless charging. The device is based on the Qualcomm Snapdragon 888+ SoC, has Harman Kardon stereo speakers, UWB, NFC, Wi-Fi 6, and Bluetooth 5.2 connectivity.
The day before yesterday it became known that Xiaomi Mi Mix 4 is equipped with a built-in SIM card, which allows you to find a lost device even without a physical SIM card. However, this feature had to be disabled due to inconsistency with Chinese laws.
It also became known that the Xiaomi Mi Mix 4 smartphone and the Xiaomi Mi Pad 5 tablet are ready for a global launch : they have already appeared in the Google Play Console database and the list of supported Google devices, where devices produced only in China are not represented.