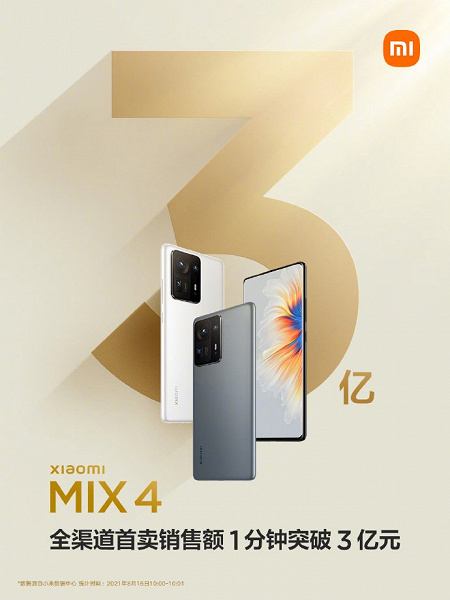 Today in China, the sale of the latest Xiaomi products started - the flagship smartphone Mi Mix 4 and the Mi Pad 5 tablets. Already on the eve, it became clear that the demand for at least Mi Mix 4 will significantly outstrip the supply, and that's how it turned out.
According to user reviews, the Mi Mix 4 sold out in a matter of seconds. Official figures show that smartphones were sold for $ 46.3 million (300 million yuan) in 1 minute. If we take into account the cost of the most expensive version, then at least 47,000 Mi Mix 4 were sold. This is far from the largest batch of Xiaomi smartphones sold at once. It should be recalled that only on one site JD.com on the eve more than 520,000 thousand preliminary orders for the purchase of Mi Mix 4 were issued: if the volume of subsequent batches is approximately the same, then the deficit will not be eliminated for a long time.
The Mi Pad 5 and Mi Pad 5 Pro tablets were initially prepared much more than the Mi Mix 4, so the deficit in this case is much less pronounced. In just 5 minutes, 200,000 tablets were sold out.