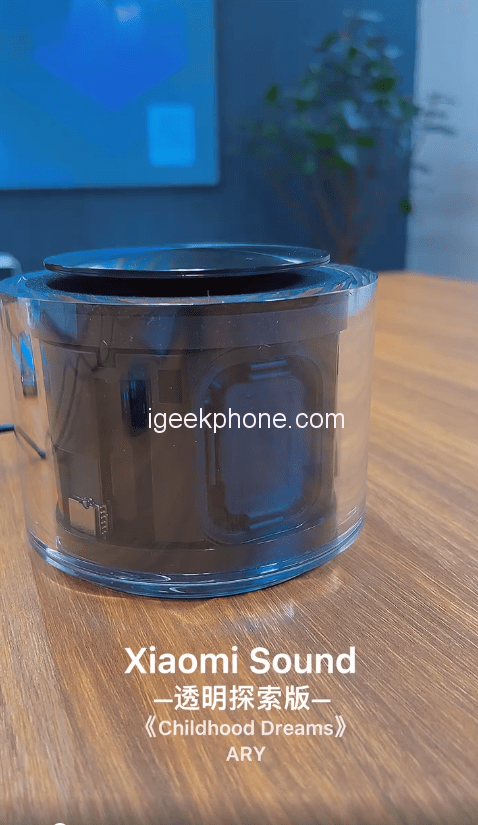 Today, Qu Heng, General Manager of Xiaomi Eco-Chain Division, unveiled a transparent version of the new Xiaomi Sound speaker, dubbed the Xiaomi Sound Transparent Discovery Edition.
As shown in the photo, the Xiaomi Sound Transparent Discovery Edition smart speaker has a transparent case, which allows you to see its insides. The device received a "floating" top cover, which serves as a control panel. Harman was responsible for sound tuning. Xiaomi Sound and Xiaomi Sound Transparent Discovery Edition reproduce sound with the same volume and quality in all directions (360 degrees). In this case, you can combine several speakers (up to 8) to create surround sound at a large event or in a large house. The speaker can reproduce sound at a volume of 90 dB in the range of 70 Hz and supports Hi-Res Audio.
Inside there are two 54 x 44 mm passive radiators and class D digital amplifiers. The device also supports voice assistant and ultra-wideband (UWB) communication technology, which is implemented in smartphones such as the iPhone 12 and Samsung Galaxy S21 Ultra, as well as the latest Xiaomi Mi Mix 4 with a subscreen camera.
The standard Xiaomi Sound speaker is offered in China for $ 77, but the transparent Transparent Discovery Mi Sound is unlikely to be launched into mass production.