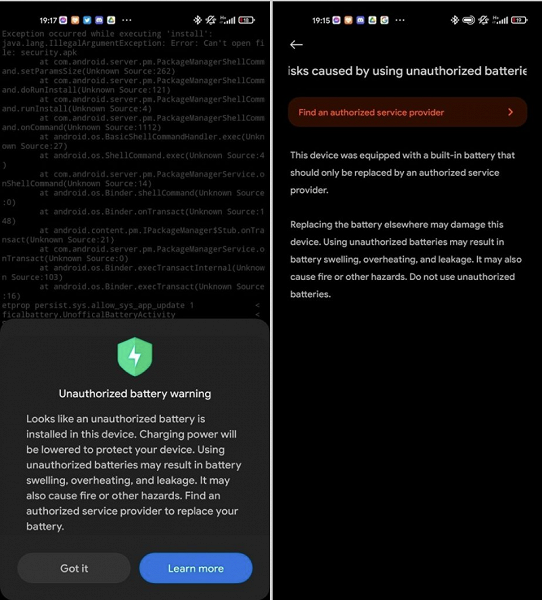 It looks like Xiaomi is planning to follow Apple's path and start showing a warning on its smartphones if the user has installed a third-party battery instead of the proprietary one. Moreover, the manufacturer may even lower the charging speed.
Evidence of this has been found by enthusiasts in the mobile developer community, XDA Developers. As the source explains, Xiaomi has recently released version 5.6.0 of the Mi Security app, which, among other things, offers settings for battery and charging.
In the new version, it was revealed that Xiaomi developers prepared the application to issue a warning and slow down the charging speed if the OS detects that an unauthorized battery is installed in the device. The warning will inform the user that the phone battery must be replaced by an authorized service provider only and that using an unauthorized battery may damage the device.
However, for now, everything will remain the same for most smartphones. Examining the APK code revealed that the "unauthorized battery use" warning will only be displayed for Chinese users who have installed third-party batteries on models such as Mi 9, Mi 10, or Mi 10 Pro for now. At the moment, the warning will not be displayed in other regions and on other smartphone models. It is also unclear if Xiaomi has started to actively use this feature in China.