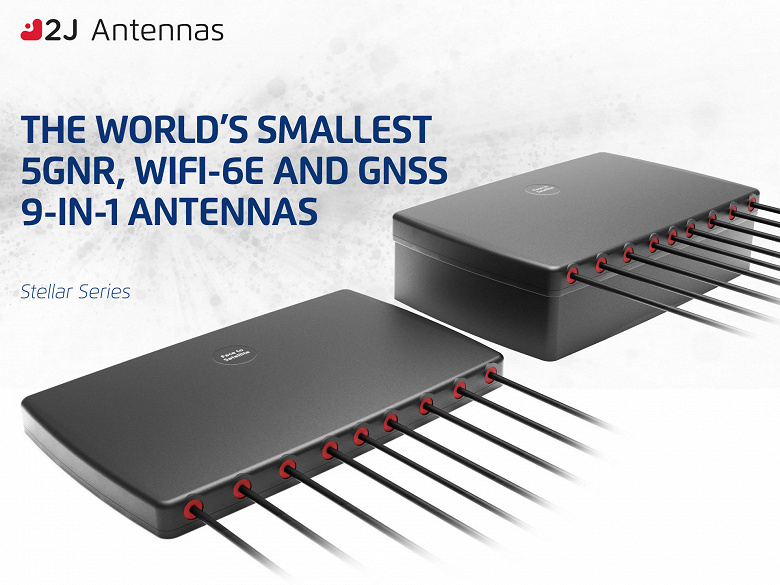 Antenna development company 2J Antennas has unveiled the Stellar series of antennas designed for a wide range of devices operating below 6 GHz, 5G NR, 4G LTE, 3G, 2G, WiFi-6E, and GNSS. Their advantages include high reliability, quality, and performance, and small dimensions are separately noted. According to 2J Antennas, the Stellar series antennas are the world's smallest 9-in-1 combo antennas supporting 5GNR, WiFi-6E, and GNSS. Their areas of application include equipment for law enforcement agencies, doctors, firefighters, rescuers, etc.
The "state-of-the-art patented technology" is said to have resulted in a 55% reduction in antenna area by using a new double trifilar design and longitudinal resonances for MIMO / ARRAY configurations that traditionally have more complex size constraints (eg B71 / 600 MHz). Each antenna configuration uses balanced or asymmetrical cavities for the negative antenna sections to maximize low to mid-frequency response. The Stellar series offers magnetic and adhesive mount options, making the antennas well suited for temporary installations. For permanent installation, there is a screw-mounted version in the Roof series. The manufacturer also highlights a lightweight, low-profile body.
Dimensions of model 2J4H86PCFd, supporting 5G NR, 4G LTE, FirstNet, CBRS, LPWA, 3G, 2GGPS, GLO, BEI, QZSS, Galileo, L14, 2.4-5.0-6.0 GHz MIMO / Wi-Fi 6E, Sigfox, LoRa, LPWA, BT, ZigBee, RFID and ISM are 198 x 127 x 15.7 mm. The dimensions of the 2J4H86MCFd model, featuring high peak gain in the 5G NR and Wi-Fi bands, are 198 × 127 × 51 mm. Antennas protection degree - IP69.