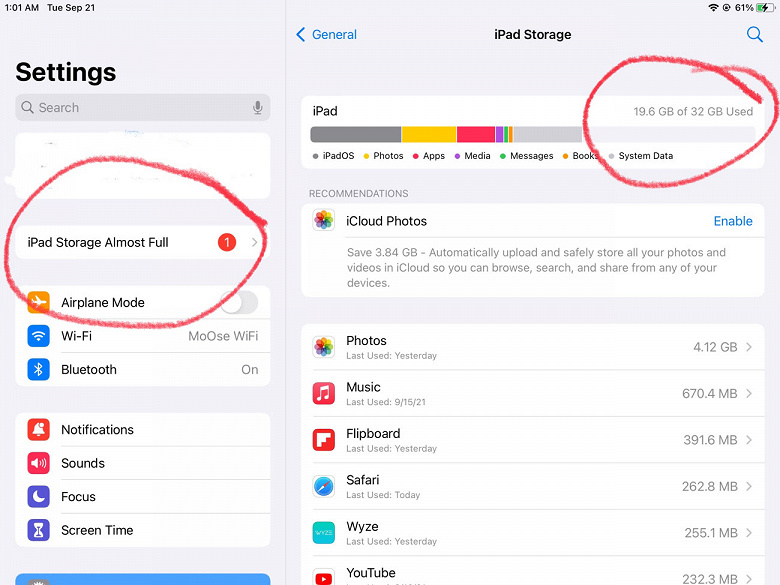 Only three days have passed since the release of the final versions of iOS 15 and iPadOS 15, but users on social networks are already confirming that the new operating systems brought with them an unpleasant bug.
It is reported that the system falsely reports that the iPhone's memory is almost full, while they still clearly have a lot of storage space. Users are also annoyed by the fact that the false alarm cannot be disabled. Apple has not yet responded to relevant requests from industry publications, so there is no solution to this problem.
The same situation is observed on the iPad: a screenshot of the screen confirms that the tablet informs the user that the space is almost out, while less than 20 GB out of 32 GB is occupied in the flash memory. According to one of the versions, the iOS 15 and iPadOS 15 files required for the update are simply not automatically deleted after the procedure is completed, but this is only an assumption.
IOS 15's penetration rate is lower than last year's iOS 14, according to analyst firm Mixpanel. As of yesterday, about 8.5% of users have upgraded to iOS 15. Last year, this figure was 14.5%.
iPhone 13 mini and iPhone 13 sell for less than the recommended price, and iPhone 13 Pro and iPhone 13 Pro Max have already risen in price in all stores in China.