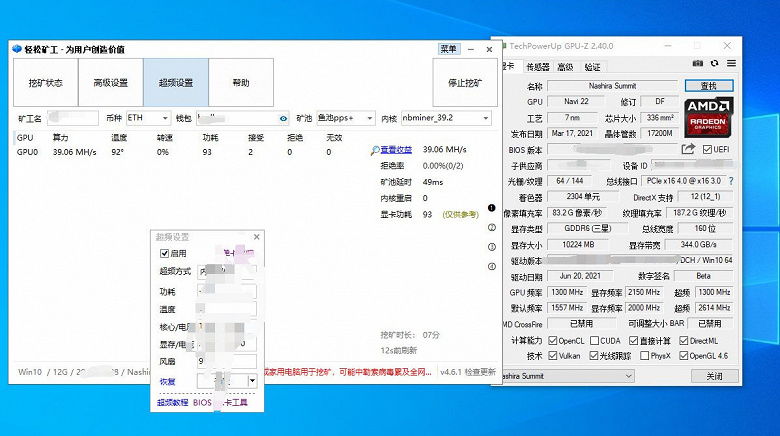 In China, a new, not yet officially presented AMD video card was lit up. There is no name, but it bears the XFX logo and is reportedly intended for the needs of cryptocurrency miners - that is, it will compete with Nvidia's entry-level CMP graphics cards.
Interestingly, the video card is devoid of fans: either it was created for miners who do not like noise, or it is designed specifically for installation in server computers. Additional power is supplied to it using two eight-pin connectors. Mining performance - 39.06 MH / s with NBMiner. The temperature reaches 92 ° C.
Judging by the parameters determined by the GPU-Z utility, the video card has 2304 stream processors and 10 GB of GDDR6 memory with a 160-bit memory bus. These parameters correspond to the parameters of the Radeon RX 6700M on GPU Navi 22 (Nashira Point). But the photo shows a discrete video adapter for installation in a PCIe slot. So it is possible that the Radeon RX 6700 video card is hidden under the continuous casing of the device, the premiere of which was expected some time ago - together with the older sister Radeon RX 6700 XT.