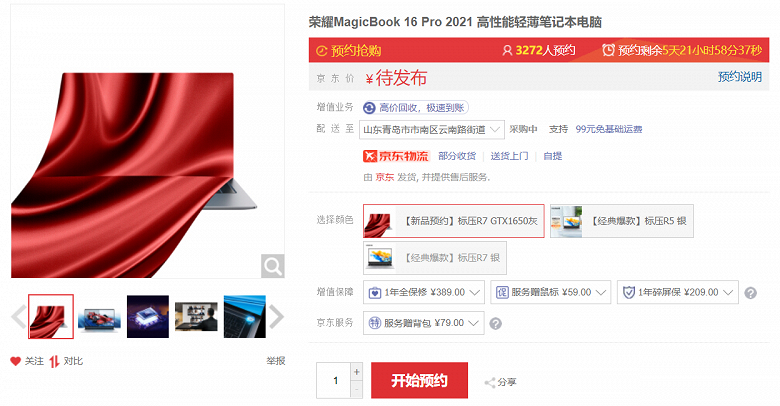 Yesterday Honor published an official teaser dedicated to the new laptop - MagicBook Pro 16 2021. It was about a screen with a frame rate of 144 Hz, and it immediately became clear that we were talking about a gaming device that could probably compete for a consumer with the Redmi G2021 ( it also has a 16-inch screen with the same frame rate). But, as it turned out now, at least in terms of graphics, the Honor device is very much inferior to Redmi.
The pre-order for the MagicBook Pro 16 2021 has already opened on JD.com. From the description, it follows that the laptop received a Ryzen 7 processor and a GeForce GTX 1650 3D card. It is far from certain that the new Honor will have the same powerful processor as the Redmi G 2021 (Ryzen 7 5800H), but the video card is much inferior to the full-featured GeForce RTX 3060 in the Redmi laptop.
MagicBook Pro 16 2021 will receive a cooling system with two fans and three heat pipes, as well as a fingerprint scanner built into the power key. More details about the new product are not yet available.