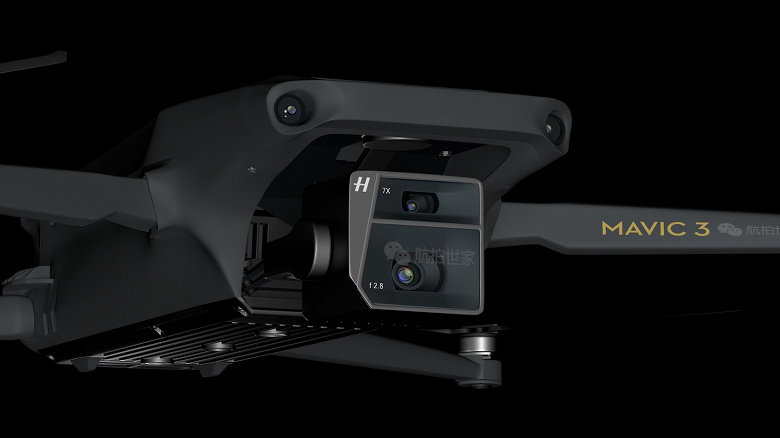 New and rather interesting details about the DJI Mavic 3 Pro drone have appeared on the Web. Firstly, the date of the official premiere is now being announced - it is expected on November 15th. The cost of the Mavic 3 Pro is also named - $ 1,600. In total, the novelty will have three versions: in addition to the basic one, there is also Fly More Combo and Cine Premium Combo.
There are now more details on the Mavic 3 Pro's camera. It can be said to be able to replace the cameras of two predecessors at once, Mavic 2 Pro and Mavic 2 Zoom, since it has two modules at once, and the sensors are installed quite large, especially the main one. It is a 20MP Micro 4: 3 sensor with a wide-angle lens with a focal length of 24mm and an aperture of f / 2.8. The second module is equipped with a 1/2 "optical format sensor with a resolution of 12 megapixels and a telephoto lens with a focal length of 160 mm. As such, there is no optical zoom, it is obtained due to the difference in focal lengths of the two lenses.
The maximum flight duration of the DJI Mavic 3 Pro is 46 minutes, the flight range is 15 km (versus 10 km for the Mavic 2 Pro). Interestingly, with all the improvements, the Mavic 3 Pro practically retained the weight of its predecessor: 920 grams versus 907 grams for the Mavic 2 Pro.
Rumors that the Mavic 3 Pro will have a built-in 1TB SSD are confirmed, but that's just the prerogative of the Cine Premium Combo version. And it is expected to be $ 1000 more expensive than the base version. And one more innovation that cannot be ignored: the Mavic 3 Pro will be able to charge directly from the USB-C cable - you will not need to take out the battery for charging.