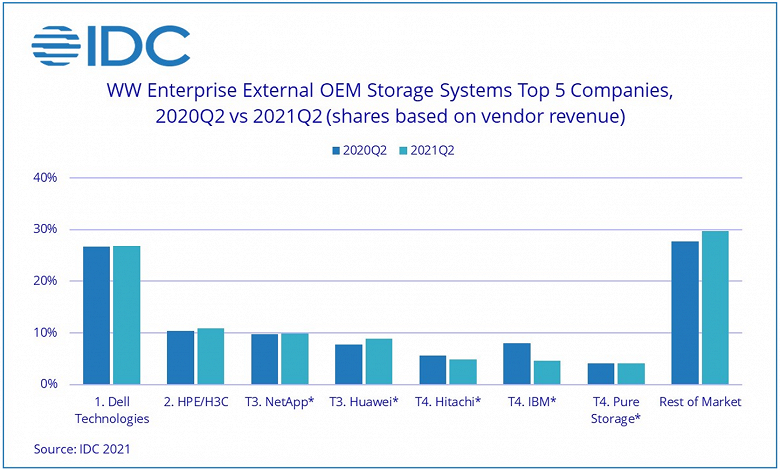 Experts of the analytical company IDC have summed up the results of the second quarter of 2021 in the market of external data storage systems. According to analysts, the revenue of OEMs supplying these products increased by 9.7% in annual terms and reached $ 6.9 billion. It is noteworthy that the total volume of storage shipped in the quarter increased by 27.9% compared to the same period last year and reached 22.1 exabytes.
Revenue from ODM vendors shipping directly to large data centers declined 7.7% year-over-year to $ 6.4 billion. At the same time, the volume of such storage facilities shipped during the quarter increased by 13.8% to 88.7 exabytes. All storage (OEM, ODM, and internal) shipped in the quarter increased 25.2% year-on-year to 156.1 exabytes.
Dell Technology remains the market leader by a wide margin. Its share increased over the year from 26.7% to 26.8%. Second place is taken by HPE / H3C. The share of this manufacturer increased over the year from 10.4% to 10.9%. This is followed by NetApp and Huawei. The share of the former increased from 9.7% to 9.9% over the year and the share of the latter - from 7.7% to 8.9%. The distribution of the market is clearly shown in the diagram. It remains only to add that in IDC, storage is understood as a complex of controllers, cables, and other components, including three drives or more, and internal storage is storage located in the same case as a server.