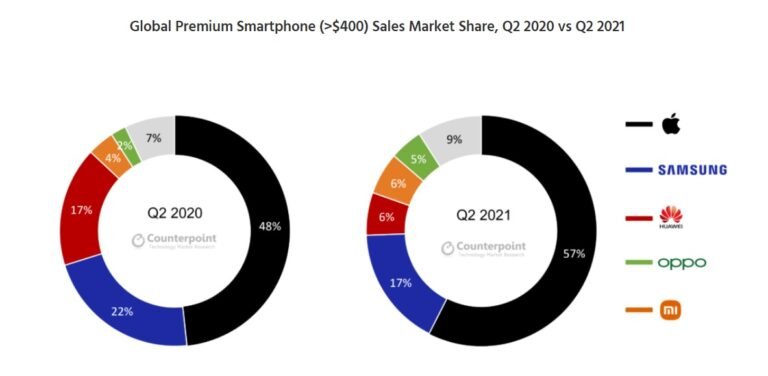 According to the latest report from research firm Counterpoint Research, Apple continues to dominate the premium smartphone segment with over 50% market share in all major markets in the second quarter of 2021.
Brands such as OnePlus, Xiaomi and Oppo have increased their shares as Huawei has weakened. The share of the latter over the past year decreased from 17% to only 6% in the second quarter of this year, but the company remained in third place.
This helped Apple strengthen its position: a year earlier, the company held 48% of the premium smartphone market, and now has grown to 57%. Samsung, ranked second, has cut its share from 22% to 17%. The Samsung Galaxy Z Flip3 and Z Fold3, both released in the third quarter, are expected to help the company improve its position.
Xiaomi, with a score of 6%, tied for third place with Huawei, increasing its share from 4% over the past year. Oppo increased its share from 2% to 5% and took the fifth place.