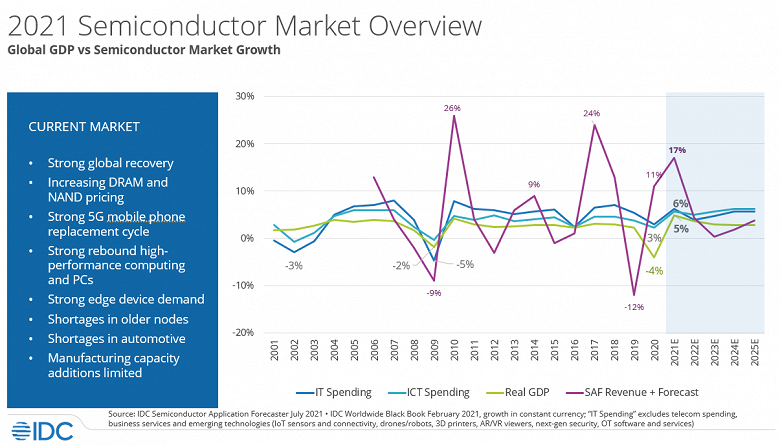 Analyst firm IDC expects the semiconductor market to grow 17.3% this year. For comparison: last year the growth was 10.8%. According to IDC's forecast, the current situation with a pronounced shortage of semiconductor products will normalize in mid-2022, when a balance between supply and demand will be achieved, and production will begin to be felt by 2023. This is due to the fact that by the end of 2022, a larger-scale expansion of production capacity will begin.
The current market growth is driven by demand for cell phones, laptops, servers, cars, smart home equipment, gaming equipment, wearable electronics, and Wi-Fi hotspots, as well as increased prices for memory. The chip shortage is expected to be felt less and less in the coming quarters as new production facilities are commissioned.
According to IDC, semiconductor sales for 5G devices will grow 128% this year, and total semiconductor sales for smartphones will grow 28.5%. The gaming consoles, smart home, and wearable segments are forecast to grow 34%, 20%, and 21%, respectively. Automotive semiconductor revenues are expected to grow 22.8%. Revenue from the production of chips for laptops will grow by 11.8%, for x86-compatible servers - by 24.6%.