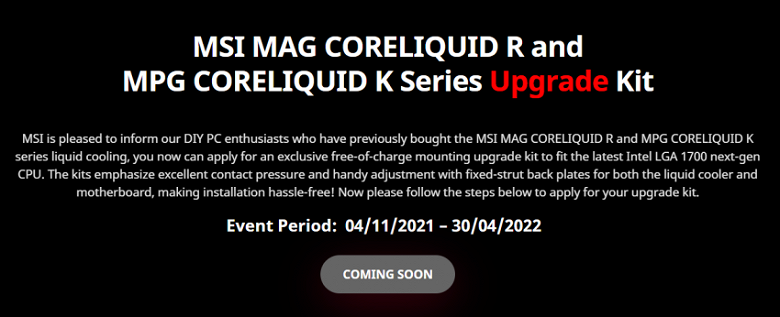 According to rumors, the premiere of Intel Alder Lake processors will take place on October 27, and the start of sales was scheduled for November 19. But, according to new data, it will be possible to buy the first Alder Lakes much earlier within a week after the premiere.
This is evidenced by data from MSI's advertising material: it says that users of two water cooling systems (MAG Coreliquid R and MAG Coreliquid K) will be able to get new mounting kits for CPUs with an LGA1700 socket (that is, the same Alder Lake) on November 4. It is logical to think that this date is the date of the official launch of Alder Lake: on this day, the first full-fledged reviews of new products will be released, and sales will also start.
Initially, only the top models of the line will go on sale: Core i9-12900K, Core i9-12900KF, Core i7-12700K, Core i7-12700KF, Core i5-12600K, and Core i5-12600KF. They will be accompanied by flagship motherboards based on the Intel Z690 chipset. Recall, the latest data indicates that the Core i9-12900K is superior to the flagship Ryzen 9 5950X. This means that other models in the series may be faster than competitors in the Ryzen 5000 line.