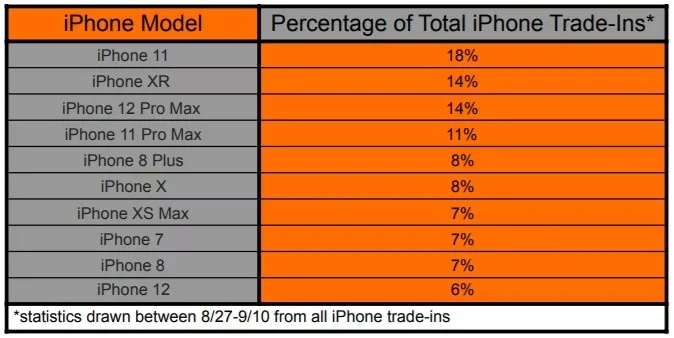 iPhone 11 owners topped the list of those who are selling their devices to buy the latest model in the iPhone 13. The analysis was conducted by collecting and examining data on tens of thousands of iPhone exchanges over the past couple of weeks.
As you can see from the graph below, iPhone 11 tops the table with 18% of total exchanges (in this case, pre-order trade-ins) made in the last two weeks (from August 27 to September 10). The reason is that the iPhone 11 came out two years ago. This means that 24-month contracts for mobile phones, which are quite common, are expiring, leading to a sharp increase in iPhone 11 sales.
The iPhone XR comes in second with a score of 14%. As a reminder, the iPhone XR was launched back in 2018. What's really surprising is that the iPhone 12 Pro Max sells in the same way as the iPhone XR. It ranks third in the table with a 14% share. SellCell believes this is because the iPhone 12 Pro Max regained some of its resale value at some point. This means that owners of the iPhone 12 Pro Max are ditching their devices due to the unnaturally high resale value that should drop after the launch of the Apple iPhone 13.
In a separate study, CIRP surveyed 2,000 smartphone owners in the US to find out what they were doing with their old phones. Due to the higher average resale value, iPhone owners are more likely to sell or trade their devices, while Android owners are more likely to keep their devices as backup devices. It has also been found that iPhone users are more likely to give away their old phone to a family member or friend than Android users.