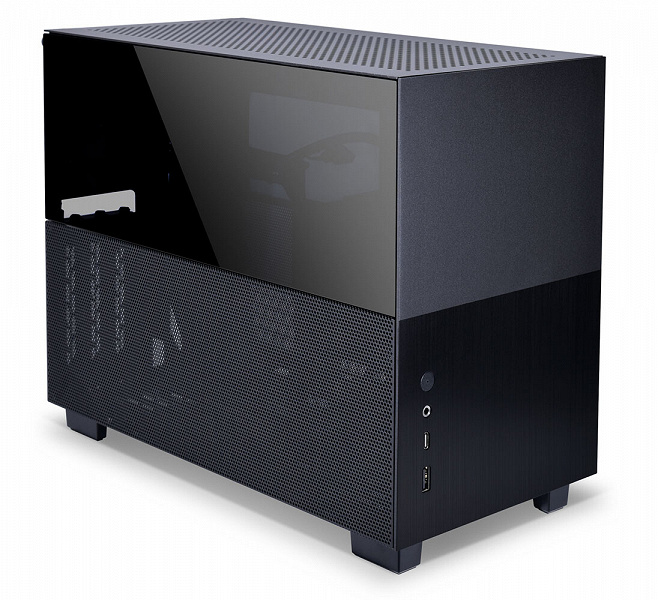 Lian Li has announced the release of the Q58 computer case designed for small-sized PCs. The 342 x 170 x 250 mm case accommodates a mini-ITX motherboard and expansion cards up to 320 mm in length. The height of the processor cooling system can be up to 67 mm, and the length of the power supply must not exceed 160 mm (SFX, SFX-L and ATX units are suitable for installation in the case). From which power supply unit is chosen, it depends on how many and which drives will fit in the case. If this is an ATX power supply, there is only room for two 2.5-inch drives, and if it is an SFX or SFX-L, then four 2.5-inch drives are placed in the case. Instead of one of them, you can put a 3.5-inch drive.
A similar picture applies to fans. In the version with the SFX PSU, a pair of 120 mm or 140 mm fans are placed on top, and in the version with the ATX PSU - only one. In any case, another 120mm fan can be attached to the bottom of the case.
If you want to use the LSS, it should be borne in mind that in the version with the SFX PSU, a radiator up to 315 mm long will fit on the top wall (by sacrificing the front drive tray, you can win another 10 mm), and if an ATX unit is selected, then there is only room for a 120 mm radiator. You can also put a 120mm radiator on the lower mounting points of the fan.
The body panels are made of aluminum. At the bottom left of the front panel there is a USB 3.0 connector, a USB 3.1 Type-C connector and an audio connector.
The black Q58 with a PCIe 3.0 riser is $ 120, the white one is $ 130, the black one with a PCIe 4.0 riser is $ 150, and the white one is $ 160. ARGB tape and mesh side panels are available as an option. Both cost $ 16.