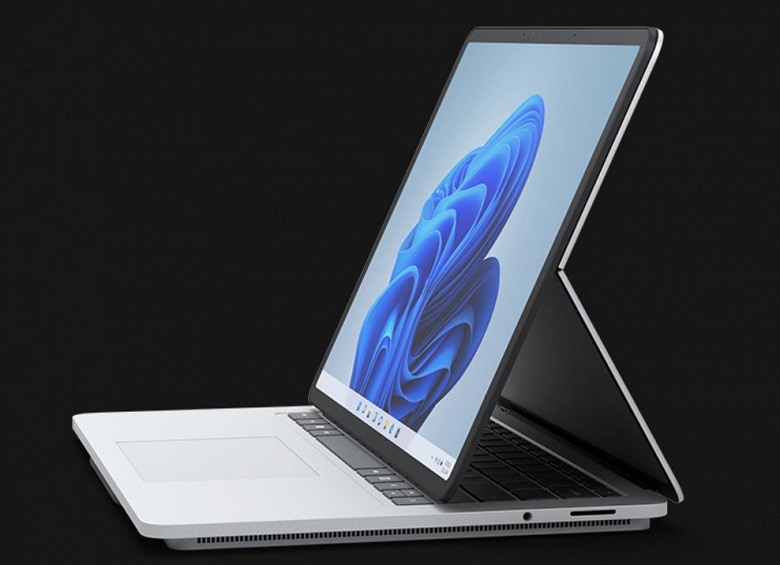 Along with the Surface Pro 8 tablet and the Surface Duo 2 Android smartphone, Microsoft today unveiled its top-of-the-line Surface Laptop Studio. The novelty attracts attention with its unusual screen attachment: it is attached to the lid at the top, and at the bottom, it moves freely. Due to this, the screen can be moved closer to you and lean on the keyboard - you get some kind of a stand. This idea is not new, something similar has already been seen in the Acer Aspire R7.
The diagonal of the laptop screen is 14.4 inches, the resolution is 2400 x 1600 pixels (aspect ratio - 3: 2), and the frame rate is 120 Hz. Above the display is a webcam and a pair of microphones.
The Core i5 version of the Surface Laptop Studio lacks discrete graphics, while the Core i7 version has a GeForce RTX 3050 Ti with 4GB of memory. The minimum SSD size is 256 GB, the maximum is 2 GB. The basic version has 16 GB of RAM, and the top version has 32 GB.
The Surface Laptop Studio has a pair of USB-C ports with Thunderbolt 4 and supports the new Surface Slim Pen 2, and the keyboard not only comes with backlighting but also mechanical switches. The maximum autonomy of the version based on the Core i5 is 19 hours, the version on the Core i7 works one hour less. The novelty will go on sale on October 5th. The version with Core i5, 16GB RAM, and 256GB SSD costs $ 1,600, while the version with Core i7, 32GB RAM, and 2TB SSD is priced at $ 3,100.