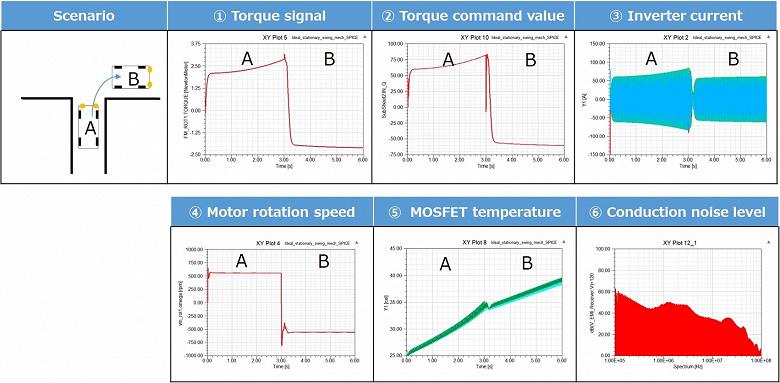 Toshiba Electronic Devices & Storage Corporation (Toshiba) has developed a model-based development (MBD) technology that significantly reduces the time to test semiconductor products for automotive electronics. According to Toshiba, the gain reaches 90%. The technology is said to allow automotive designers to quickly evaluate designs using Toshiba semiconductor products, resulting in shorter development times.
As the popularity of electric vehicles grows and advanced driver assistance systems become the standard, automotive equipment becomes more sophisticated and sophisticated. Model-Driven Development, a development methodology that uses software to simulate and evaluate performance in real-time, helps developers improve complex design processes. In the automotive industry, MBD is used in the design and verification stages before prototyping.
The essence of MBD is in dividing functions into blocks and checking the general behavior of the car when each block is connected. In particular, this is how the behavior of semiconductor products in individual blocks is checked in terms of thermal and electromagnetic interference. However, as the models become more detailed and accurate, the verification time increases.
Toshiba took a close look at the technology already in use for assessing and inspecting automotive equipment. Subsystems, such as electric power steering, contain semiconductor electronics that fire in microseconds, as well as mechanical components, gears, and shafts, whose response times are measured in milliseconds. Toshiba's current technology simulates electronic circuits and mechanical components at the same time as microseconds discrete, resulting in a lot of unnecessary and time-consuming mechanical computation.
Toshiba's new Accu-ROM simulation technology calculates the behavior of electronic circuits and mechanical components separately. This approach eliminates unnecessary calculations. When evaluating electrical circuits, a high-speed IC is automatically generated in the description language from the SPICE model. This allows the test range to be limited to key parameters such as heat and EMI noise, reducing test time. For example, a power steering system test, now taking 32 hours 51 minutes, with new technology, is done in 3 hours 27 minutes.
Toshiba plans to use the new technology in semiconductor verification and other applications, including industrial equipment and home appliances.