Previously, photos of the GeForce RTX 3080 Ti video card with 20 GB of its own memory have already been published on the Web, but without much specifics - one might think that 8 GB of "extra" memory of this model was either completed, or it was some kind of early prototype. Naturally canceled. However, as it turned out, such a video card exists in reality. Moreover, it was sold in Russia to one of the users.
This user turned out to be a miner, and posted on the Web a video demonstrating the performance of a GeForce RTX 3080 Ti with 20 GB of memory in mining. And there are many interesting points here.
As it turned out, there is no full-fledged driver support for this model. Kolya Miner (this is the username on YouTube) tried to contact the Russian representative office of Gigabyte and clarify this point, but he was told that the company did not have such a video card. Well, the video card may not be like that, but there is a BIOS for it in the TechPowerUP GPU-Z software database. Moreover, for three versions at once: Gaming OC, Aorus Xtreme and Aorus Master. That is, any owner of the usual GeForce RTX 3080 Ti performed by Gigabyte can add 8 GB of "extra" memory to it by soldering, install the BIOS downloaded from the Network - and get a "non-existent" GeForce RTX 3080 Ti with 20 GB of memory. True, there will still be problems in games.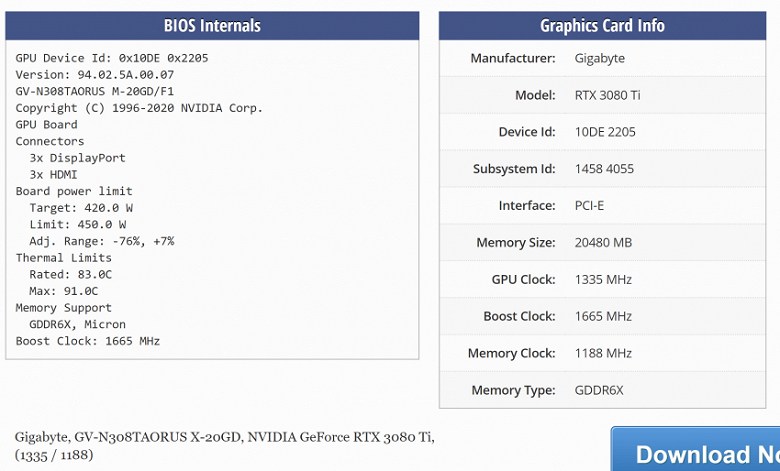 But in mining, everything works. Moreover, as it turned out, the Gigabyte RTX 3080 Ti 20GB Gaming OC had already been pre-adapted for these purposes (the memory frequency was increased by 1 GHz, the TDP limit was reduced to 80%). The second interesting point is that the board has no hardware limitations for mining, that is, it does not apply to LHR models. Therefore, its mining performance was 94 MH / s - 64% more than a regular GeForce RTX 3080 Ti 12GB LHR. The store that sold the 3D card promised 97 MH / s performance, but the user was unable to achieve it. Perhaps because a computer with a video card was used simultaneously for mining and streaming.


The user said that the video card cost him 225,000 rubles. This means that when using the algorithm that provides the maximum profitability, the payback period will be 420 days.