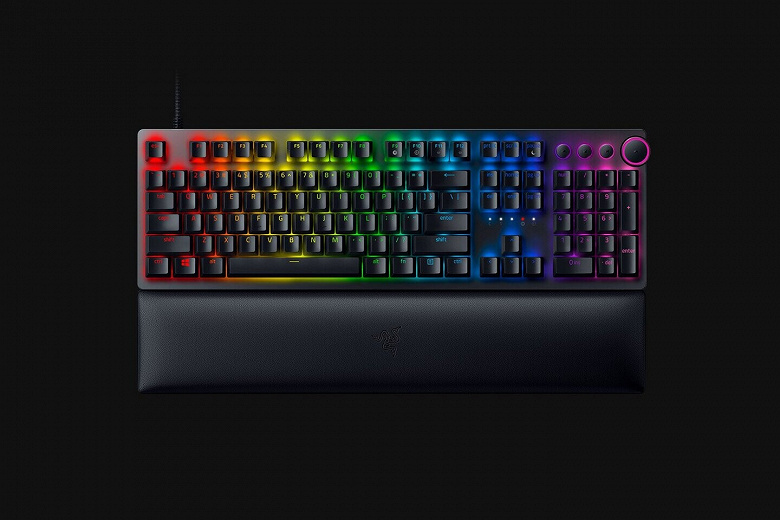 Razer has unveiled the Huntsman V2 series of keyboards. According to the manufacturer, these are "the fastest and most advanced optical gaming keyboards in the world." The series includes a full-size model and a model without a block of numeric keys. They feature second-generation Razer optical switches and Razer HyperPolling technology, which increases the polling rate from the familiar 1,000 Hz to 8,000 Hz. Keycaps are made of PBT plastic by double injection molding. In addition, the manufacturer notes the improved damping of structural elements, due to which the sounds of the keyboard have become quieter and softer.
For example, the aforementioned second-generation optical switches have added a silicone sound absorber, which reduces the click when the keys are pressed. For smoother operation and additional noise reduction, the amount of grease on the shifters and stabilizers has been increased.
A brushed aluminum top plate provides rigidity to the structure, ensuring minimal deflection even with the toughest keystrokes. The keyboard is complemented by an ergonomic wrist rest.
The Huntsman V2 is backlit with a multi-function wheel and four customizable multimedia keys. Settings are made in Razer Synapse 3 software and can be saved to onboard memory.
The Huntsman V2 Tenkeyless is smaller and lighter. It does not have a block of numeric keys, a multi-function wheel and multimedia keys, but the USB cable is removable.