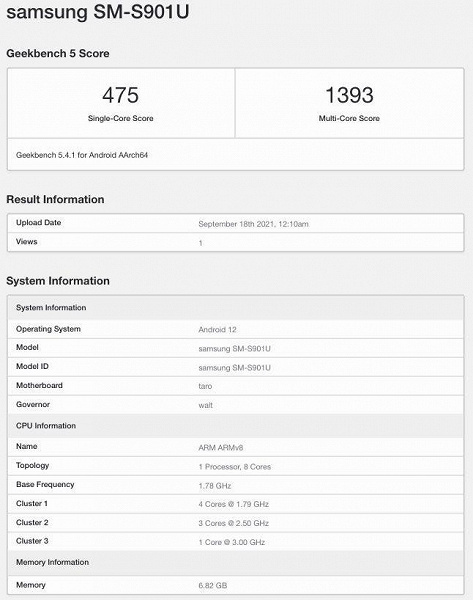 Earlier this week, the promising flagship Samsung Galaxy S22 on the Exynos 2200 platform was lit up in the Geekbench benchmark and it showed a good result, at the level of the current Qualcomm Snapdragon 888 SoC. And today the base Galaxy S22 on the Snapdragon 898 platform was noted in Geekbench. What is its result?
Alas, it is very low. 475 points in a single-threaded test and 1393 in a multi-threaded one is more than two times lower than that of the Snapdragon 888. But such an unimportant result can be easily explained by a lot of factors because we are not talking about a test of a production model. Samsung will still finalize the smartphone's firmware, and Qualcomm - the Snapdragon 898 firmware, and then the smartphone will demonstrate its full power.
In the meantime, we have confirmation that the Snapdragon 898 was used (it includes the Adreno 730 graphics core), as well as the fact that the Galaxy S22 runs Android 12 and has 8 GB of RAM.