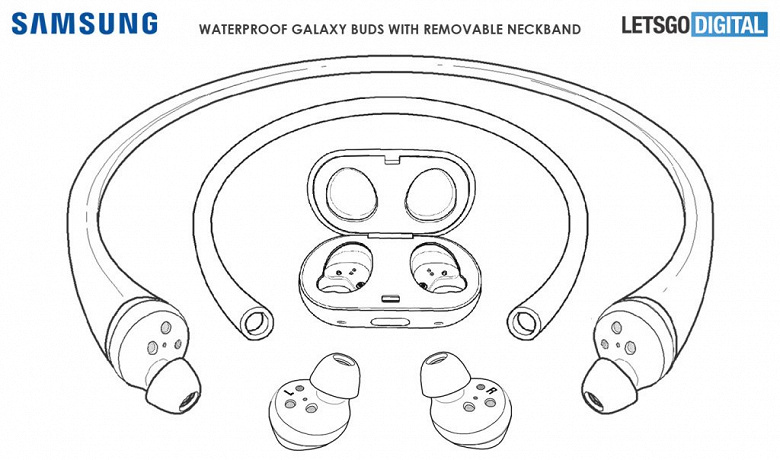 The source cites an image from a Samsung patent filed March 3 this year for registration with the World Intellectual Property Organization (WIPO). The documentation was published publicly on September 10, and judging by the schematic image, Samsung is working on some kind of hybrid of wired and wireless headphones.
Samsung has a line of U Flex - wireless neckband headphones that are water-resistant and fully wireless Galaxy Buds, which are less suited for sports, especially those involving submersion in water. But soon the company may have some kind of hybrid model that will combine the merits of both lines. Actually, it is demonstrated by the image of the patent.
The headphones shown here are very similar to the Galaxy Buds Plus, meaning they have built-in microphones, sensors, and two-way speakers. But the difference is that these "special" Galaxy Buds Plus have an accessory - a flexible neckband that allows you to use the headphones in the pool while maintaining a wireless connection to the sound source. At the same time, the tracking of the user's vital indicators during swimming will be maintained, as will be recorded both the speed and the distance traveled, and the calories burned.
It is not yet clear when Samsung may have such headphones, but one thing is clear: the company is working to expand the scope of its wireless devices.