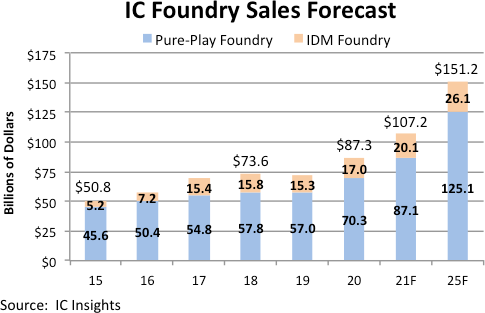 IC Insights analysts, which monitor the state of affairs in the semiconductor industry, are confident that the growth of the market for contract manufacturing of semiconductor products this year may turn out to be a record. They predict a rate of 23%.
Let's clarify that the consideration includes both companies that act only as contract manufacturers, and developers with their own production, which they partially load with third-party orders. The first category includes TSMC, GlobalFoundries, UMC, and SMIC, while the second includes Samsung and Intel, for example.
The high demand for processors and other microcircuits allows us to predict that in 2021 the market for contract manufacturing of semiconductor products will grow to 107.2 billion dollars. This is 23% more than in 2020 and compares to the record growth recorded in 2017. It is worth noting that the big growth in 2017 was primarily due to the fact that Samsung Electronics began to view purchases from Samsung System LSI as orders from a contract manufacturer, and not due to real market growth.
Total contract manufacturing sales are expected to surpass the $ 100 billion mark for the first time this year and continue to grow at a CAGR of 11.6% through 2025. If this forecast comes true, the market will reach $ 151.2 billion in 2025.