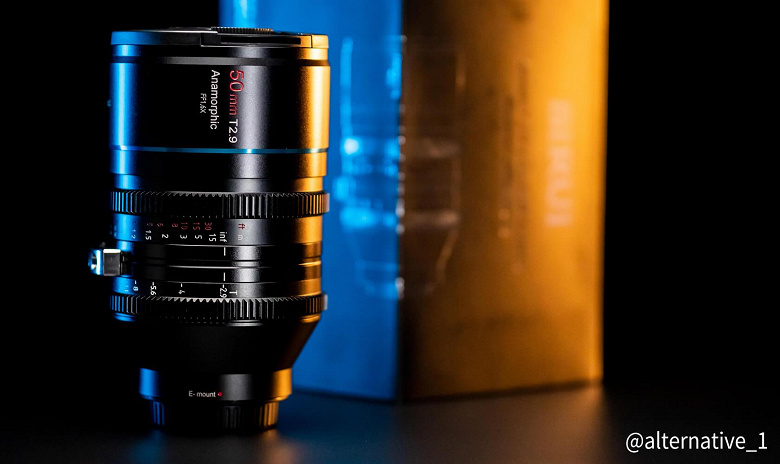 The online store of Sirui, known for its anamorphic lenses, has a page for the full-frame 50mm T2.9 model with an anamorphic ratio of 1.6x.
Interestingly, this lens is not yet in the company's product catalog, as there is no press release dedicated to its release in the news section. On the aforementioned page in the store, it is said that the specified lens will be on sale in mid-November, and it will cost $ 1,499. According to other sources, the company intends to raise funds for the release of the product on the IndieGoGo website. The corresponding page has already been prepared there, and the campaign will begin on October 12th.
The manufacturer notes that it previously produced 1.33x anamorphic models designed for APS-C cameras. The new model "forms its own class", allowing you to get the final 2.4: 1 aspect ratio when shooting with a 3: 2 aspect ratio, and a final 2.8: 1 aspect ratio when shooting with a 16: 9 aspect ratio, the same as at the IMAX cinema. Of course, like other anamorphic lenses, the Sirui 50mm T2.9 delivers the distinctive oval out-of-focus blur and horizontal flare from light sources. Available in L, Canon RF, Sony E, and Nikon Z mounts.
Sirui 50mm T2.9 Lens Specifications:
focal length - 50 mm
optical design - 16 elements in 13 groups
light transmission - T2.9 – T16
the number of aperture blades - 10
anamorphic coefficient - 1.6x
minimum focusing distance - 0.75 m
maximum magnification - 1: 12.83 vertically and 1: 20.42 horizontally
the installation diameter of filters - 82 mm
diameter - 88 mm
length - 140-142.9 mm (depending on the mount)
weight - 1030.6-1073.6 g (depending on the mount)