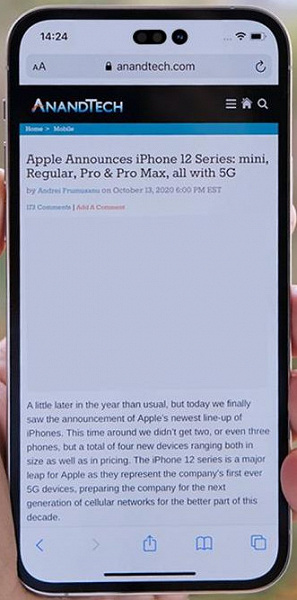 Even before the release of the iPhone 13 line of smartphones, the first rumors about the iPhone 14 series appeared, and now they are becoming more frequent. Many insiders agree that the iPhone 14 will bring with it the first major redesign in five years. New smartphones should ditch the bangs in favor of a cutout for the front camera, like many Android phones.
If the iPhone 14 gets an embedded front-facing camera, then the effective display area will increase and the smartphone will become more convenient. Meanwhile, Ice Universe, known for its accurate predictions regarding the design of new smartphones and their characteristics, has published a photo of an unknown smartphone.
He stated, "The holes in the iPhone 14 screen will look something like this." Keep in mind that the iPhone lineup uses not just one front camera, but a set of sensors required for the Face ID system to work. According to one version, all sensors, except for the front camera sensor, can be hidden under the surface of the screen, however, Ice Universe claims that the iPhone 14 bangs will disappear, but the sensors will remain in place, which is why the smartphone may look so strange.
This has already caused a heated discussion among users. Many people think that this is impossible and not at all in the style of Apple. Others agree that Face ID sensors cannot be placed under the screen due to low light transmittance.
Ice Universe has provided accurate information on Samsung smartphones and image sensors many times, including the recent announcements of new 50MP and 200MP sensors. He was also the first to show accurate images of smartphones with waterfall screens.