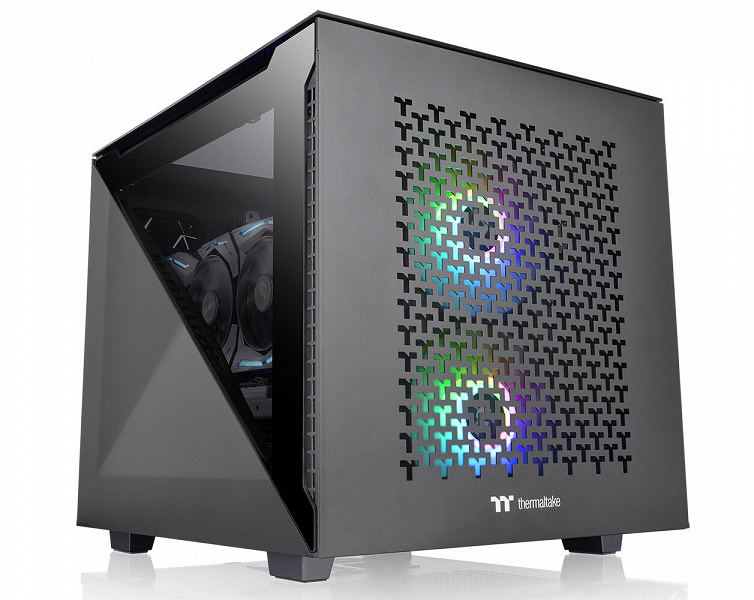 Thermaltake introduced the Divider 200 TG Black, Divider 200 TG Snow, Divider 200 TG Air Black and Divider 200 TG Air Snow computer cases. They are all a variation of the same model. In the basic version, the front panel is made of glass. The Air in the name refers to the front grille. The Black cases are painted black, the Snow cases are white.
In all cases, the 364.7 x 333.2 x 425.7 mm case accommodates a mini-ITX and microATX motherboard and up to five expansion cards up to 310 mm long (assuming a 27 mm heatsink is installed) or up to 340 mm. By the way, the maximum height of the processor cooling system is 185 mm, and the length of the power supply is 180 mm (if the lower fan is installed) or 200 mm (if there is no fan). Bodyweight - 9.01 kg. There are 3 mm thick tempered glass windows on the top and side.
The case can accommodate up to three 3.5-inch drives and up to three 2.5-inch drives. Of course, instead of 3.5 "drives, you can also install 2.5" drives.
The design provides for the installation of one 200 mm (it is installed normally) or up to two 140 mm or 120 mm fans on the front wall, up to two 140 mm or 120 mm fans on the right, one 140 mm or 120 mm fans on the rear (120mm factory installed). Up to two more 120mm, fans can be attached to the bottom of the case. In the version with LSS, a radiator up to 280 mm long can be attached to the front or sidewall, and a 120 mm radiator on the back. The input-output panel has two connectors for USB 3.0 ports, a USB 3.2 Gen 2 Type-C connector, and an audio connector.
The manufacturer does not provide prices.